Mitchell Flint, A Great American Aviator
In this article we are going to discuss the life of Mitchell Flint, a great American aviator who helped Israel during the First Arab-Israeli War.
Early Life And Education Of Mitchell Flint
Mitchell Flint was born on the 27th of June 1923 in Kansas City, Missouri. Flint's father served bravely in the First World War as a fighter pilot and he was the main reason why Flint got interested in aviation in the first place. When Mitchell was a teenager, he took Mitchell to the Kansas City airfield to show him the beauty of aviation. This experience had a great impact on Mitchell and he wanted to become a successful aviator like his father.
When Mitchell Flint was going to the Westport High School, he joined the Junior Reserve Officers' Training Corps, where he was taught important skills and learned about leadership and more. Afterwards, he graduated from his high school with honors and volunteered right away to serve as a fighter pilot in the World War II at the age of 18. However, before serving in the military he needed to complete the Civilian Pilot Training Program. He successfully finished this training program and now he was ready to join the war effort.
His Service During The World War II
After finishing his high school education and completing the Civilian Pilot Training Program, Mitchell Flint started fighting as a fighter pilot in the WW2. He was assigned to the Pacific Theater and served under Admiral John S. McCain Sr. on the USS Wasp, a large naval air carrier. He operated a Vought F4U Corsair and engaged in direct conflict against Japanese suicide planes. After shooting down a one of these "Kamikaze" pilots and for all his service during the war, he was given Air Medals.
Following his brilliant service in the US Navy that had lasted for 6 years, Flint joined the United States Navy Reserve and flew for 16 more years. For many years of excellent and brave service as an aviator, Flint was ultimately promoted to the rank of Commander.
Flint's Admirable Help For Israel After WW2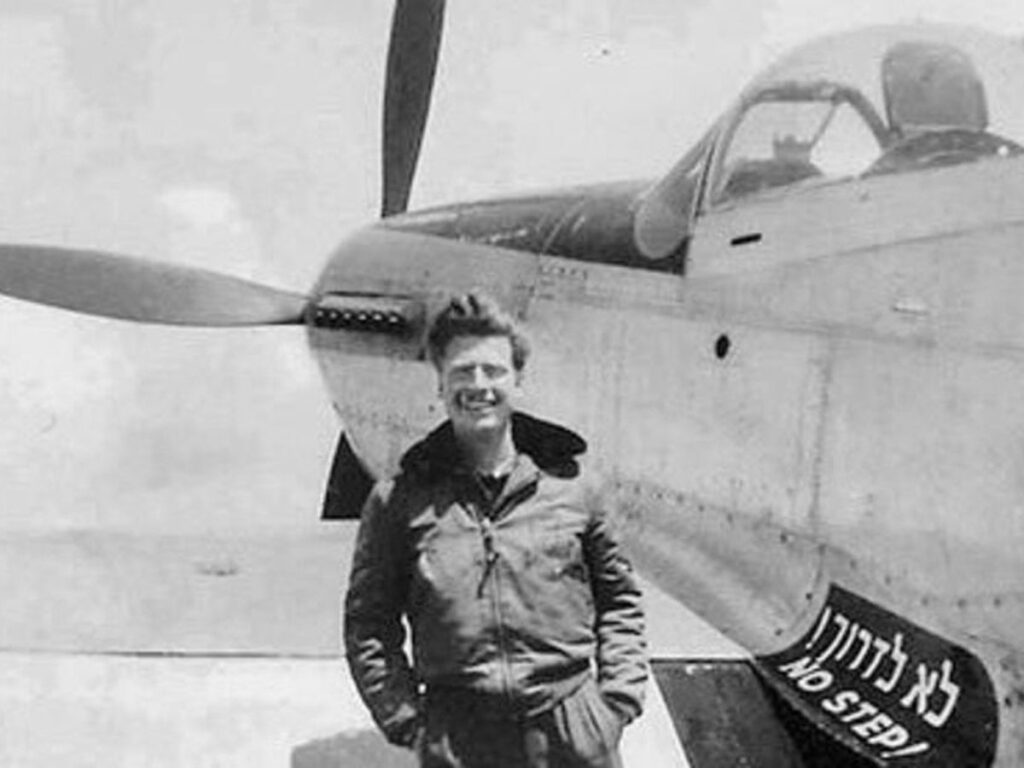 After his service during the WW2 as a fighter pilot, Flint became especially concerned about the Holocaust Survivors. To help the Jewish community and promote stability in the world, Flint decided to help Israel using his skills as a proficient fighter pilot. However, his mother, concerned for her son's safety, didn't support his son fighting in another war. So, he told her that he just wanted to travel and explore the world. After comforting his mother with this white lie, Flint volunteered to fight for Israel.
During the First Arab–Israeli War of 1948, Flint joined the 101 Squadron, Israel's first aviation unit. The war ended with Israeli victory and Mitchell Flint's efforts and great skills as an aviator surely had a significant part in it. Flint later attended Israel's Silver Anniversary in 1979 and Israel's Golden Anniversary in 1999, where he was saluted for his brave service.
His Later Years
Flint, then, got his law degree from UCLA School of Law and worked as a lawyer for more than 50 years. He died on the 16th of September 2017 at the age of 94.
Resources
Anon. (n.d.), Mitchell Flint, Wikipedia, Retrieved 4 August 2021
< https://en.wikipedia.org/wiki/Mitchell_Flint >
Steve Marble (September 26, 2017), Mitchell Flint, U.S. aviator who helped found Israeli Air Force, dies at 94, Los Angeles Times, Retrieved 4 August 2021
< https://www.latimes.com/local/obituaries/la-me-mitchell-flint-20170925-story.html >