Maya Ghazal – First Female Syrian Refugee Pilot
Aviation history is full of many brave and passionate people. Especially when we think about the oppression and discrimination against women in many geographies around the world, it is very important and proud to write about women who made a difference in aviation history and to tell their stories to the world. In this article, we will talk about a strong woman named Maya Ghazal. Let's take a look at the story of this inspiring woman…
In a speech she took the stage for TEDx, Maya begins her words as follows… "I am a Syrian, a refugee, besides all that, I am a woman. You might think these are an unlucky combination. But I'm here to face all your inferences about me." In the continuation of her speech, she gives 5 suggestions that will rekindle hope for refugees. But we will come to these parts later…
Maya Ghazal – Great new Beginning
Maya Ghazal was forced to leave her home and country in 2015 when she was only 16 years old. Maya flees from her home in Damascus, Syria, to England with her two brothers and mother. They meet in England with her father, who had emigrated there a year ago. For Ghazal, this is almost like a "Great new Beginning". However, Maya's comment on this situation was as follows: "We lost our homes and have been forced to seek safety in another country. But that is a change of circumstances… not a change from a person into a problem.".
From one point of view, despite all the difficulties, Maya gets the opportunity to start a new life in England with her family. So, what are the experiences of thousands of young people and children who did not get this chance?
Maya has become one of the leading advocates of refugee rights, speaking at various events around the world, where she broke stereotypes and offered five solutions to better understand refugees and why countries should invest in their unlimited potential.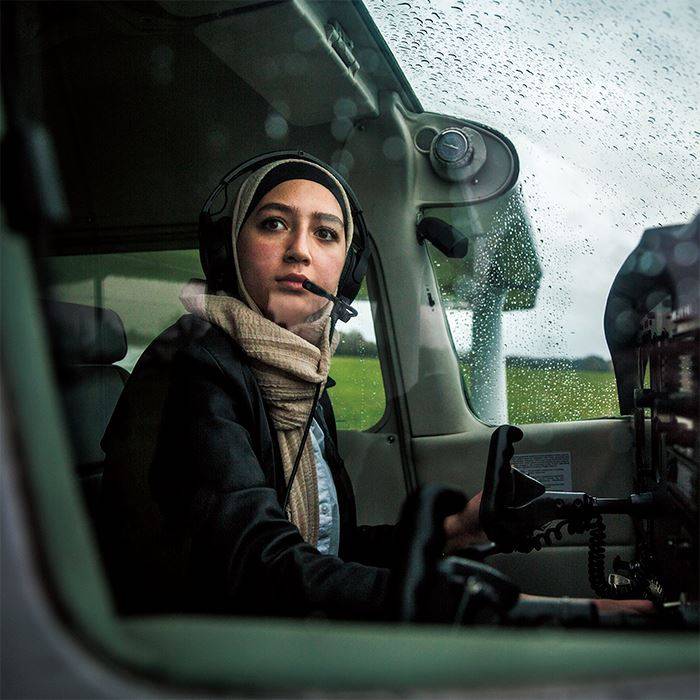 Five Solutions to Better Understand Refugees
– "Do not Label me"
– "Think about education is as being as important as food, water and safety for refugees"
– "Support University places for refugees"
– "Don't tell me something I can't do because I am a girl"
– "Believe in us"
While making a fresh start in her life in England, Maya followed her interest and passion for aviation. She studied Aviation Engineering at Brunel University with the ambition of becoming a pilot. And Maya Ghazal Became the First Female Syrian Refugee Pilot in England.
Asked about piloting during an interview with Ghazal, How do you feel when you're thousands of feet up in the air? gives answer like this;
"You have to do 45 hours minimum with different instructors before flying solo. A pilot is always prepared for the worst; they must know how to tackle every situation from a fire to engine failure. At the end of my first solo flight, I bounced when I landed because I was going too fast. I wasn't used to the plane being so light—that's the day I lost any fear I had. It is so freeing being up there."
As a result, Maya ghazal is started a new life in England despite all the difficulties. So, what do people who have lost their hopes due to wars and conflicts and cannot find a chance for a new life do?
Resources:
https://www.vogue.com/article/maya-ghazal-world-refugee-day-interview