Pan Am Flight 103: The Lockerbie Bombing
Pan Am Flight 103 was a scheduled international passenger flight from Frankfurt Airport (FRA) in Frankfurt, West Germany, to John F. Kennedy International Airport (JFK) in New York City, with a stopover at London Heathrow Airport (LHR) in London, England and another in New York City. On December 21, 1988, the aircraft, a Boeing 747-121, was destroyed by a bomb 38 minutes after takeoff from Heathrow, killing all 259 people on board and 11 people on the ground in the Scottish town of Lockerbie.
The bomb was planted in a suitcase in the forward cargo hold of the aircraft.
The bomb detonated at 7:02 p.m. GMT, while the aircraft was flying over Lockerbie at an altitude of 31,000 feet.
The aircraft broke apart and crashed to the ground in three pieces.
All 259 people on board were killed, including 190 Americans and 43 Britons.
Eleven people on the ground in Lockerbie were also killed.
The Lockerbie bombing was the deadliest single terrorist attack on British soil.
It was also the deadliest terrorist attack on an American airliner.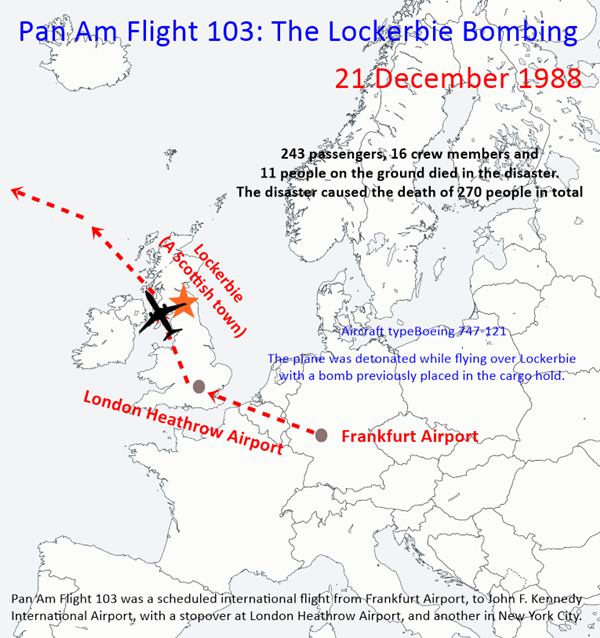 Investigation and Aftermath
The investigation into the Lockerbie bombing was one of the largest and most complex in history. It took over 10 years to identify and bring the perpetrators to justice.
In 2001, two Libyan nationals, Abdelbaset al-Megrahi and Lamen Khalifa Fhimah, were convicted of the bombing by a Scottish court sitting in the Netherlands. Megrahi was sentenced to life in prison, while Fhimah was acquitted.
Megrahi was released from prison in 2009 on compassionate grounds after being diagnosed with prostate cancer. He died in Libya in 2012.
Fhimah died in Libya in 2019.
The Lockerbie bombing remains a controversial event. Some people believe that the Libyans were solely responsible for the bombing, while others believe that other countries or groups may have been involved.
Legacy
The Lockerbie bombing had a profound impact on the aviation industry and on international security. It led to the implementation of new security measures at airports and on aircraft. It also raised awareness of the threat of terrorism and the need for international cooperation to combat it.
The Lockerbie bombing was a tragic event that resulted in the loss of many innocent lives. It is a reminder of the importance of security and cooperation in the fight against terrorism.
---
---
References:
Wikipedia: Pan Am Flight 103
BBC News: Lockerbie bombing
Aviation Safety Network: Pan Am Flight 103
image source: By Air Accident Investigation Branch – Air Accident Investigation BranchReport No: 2/1990 – Report on the accident to Boeing 747-121, N739PA, at Lockerbie, Dumfriesshire, Scotland on 21 December 1988Report name: 2/1990 Boeing 747-121, N739PAhttp://www.aaib.gov.uk/publications/formal_reports/2_1990_n739pa.cfmAppendix B, Image B-9 "Photograph of nose and flight deck"http://www.aaib.gov.uk/cms_resources.cfm?file=/2-1990%20N739PA%20Append.pdf, OGL 2, https://commons.wikimedia.org/w/index.php?curid=30369951