A Look At The History Of Bombardier
Bombardier started out as a dream that came out of a traumatizing experience. Although its beginnings were quite sad, the company managed to become successful in many areas. Facing countless difficulties along the way, there were many times when it could be the end for Bombardier. However, the company perservered and showed us what is possible with enough determination and resourcefulness. Here's a take on the inspirational history of Bombardier Inc.
Bombardier Inc. Beginning And Early History
Joseph-Armand Bombardier is the key person to mention when we are talking about the history of Bombardier. He was an ingenious inventor who had a dream of developing a vehicle that could easily travel on snow. The reason was that in 1934, he lost his little boy to appendicitis because they couldn't reach hospital on time due to bad weather conditions. Just a year later, he managed to make that dream come true by building the first snowmobile. His invention quickly became quite popular and he founded "Bombardier Snow Car Limited" in 1942.
Through its early history, the company faced quite a bit of setbacks due to external factors. Despite all those setbacks it kept growing and making use of new opportunities. For example, when there was a law passed that made it mandatory to keep roads snow-free, it made snowmobiles almost obsolete. As a response to this, Bombardier decided to make snowplows to make the best of the situation. For decades company built a wide variety of products and acquired several other companies, growing better every step of the way.
Entry Into Aviation Industry
Bombardier entered the aviation industry with its acquisition of Canadair in 1986. Although Canadair was doing badly before the acquisiton and almost went bankrupt, Bombardier managed to make it work. After seeing that aviation industry had some promise, Bombardier also acquired other aviation companies that were close to bankruptcy. The late 80s and early 90s was Bombardier's time to make a great entry into the industry.
Aside from acquiring other companies and optimizing them for success, Bombardier also created its own aviation brand in 1995: Flexjet. Bombardier started out as a humble company making snowmobiles and now it was building and leasing aircraft; mainly private jets.
Bombardier's expansive approach to acquiring and managing different companies meant that its products were quite varied as well. It not only produced private jets but also many different types of aircraft from ones designed to put out fires to commercial options. The company kept growing on multiple fronts, but this also meant that managing it was getting more difficult.
Bombardier Taking A More Focused Approach
Bombardier's expansive approach to aviation was not unique to this industry. It had also had many interests outside aviation such as finances, military products, public transport and rail equipment. As we entered 21st century the managers realized that it was too much.
Now the company is a producer of business jets that employs over 12.000 people and operates all over the world. With a more focused approach, we will hopefully see what Bombardier is capable of.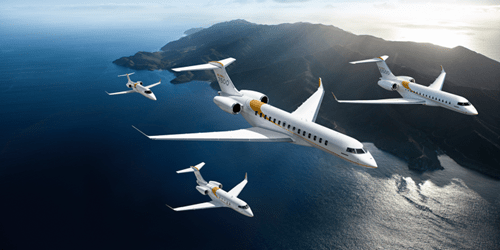 Resources
Anon. (n.d.), Bombardier Inc., Wikipedia, Retrieved 21 October 2021
< https://en.wikipedia.org/wiki/Bombardier_Inc. >
Bombardier Website Editor (n.d.), Our history, Bombardier Website, Retrieved 21 October 2021
< https://bombardier.com/en/who-we-are/our-history >
Jonathan McQuarrie (last updated 20 February 2020), Bombardier Inc., The Canadian Encyclopedia, Retrieved 21 October 2021
< https://www.thecanadianencyclopedia.ca/en/article/bombardier-inc >