Pan American Airways_ The Collapse of An Aviation Legend
The number one and widest ranging international air carrier and unofficial overseas flag carrier of the United States for much of the 20th century, the legend of the Aviation history, Pan American World Airways, was originally created as Pan American Airways and has also been popularly known as Pan Am in public. Pan American Airways got the ball rolling in terms of innovation within the modern airline industry and Pan Am was the pioneer of the worldwide flights in the world among all of those airlines in the world. Pan Am's innovations are numerous but if we have to give some examples; jet aircraft, jumbo jets and computerised reservation systems would be the top things which we should definitely talk about. Pan Am "epitomised the luxury and glamour of intercontinental travel" until Pan Am's cessation on 4 December 1991.
Pan Am Airlines stands as a cultural icon of the 20th century, the sui generis blue globe logo ("The Blue Meatball") which identified with Pan Am, and their aircraft, the use of the word "Clipper" and their call signs, the white uniform caps of Pan Am Pilots' all of these created an icon, an idol for the 20th century's Aviation Field.
Pan American Airways founded by two former United States Army Air Corps majors on 14 March 1927. Pan Am was an assigned scheduled airmail and passenger service flying between Key West, Florida, and Havana, Cuba in the beginning. In the 1930s the Pan Am Airline purchased a fleet of flying boats and change the centre of attention as its route network on Central and South America           especially they focused on adding transatlantic and transpacific destinations to their routes, under the leadership of an American, successful and accomplished risk taker entrepreneur, Juan Terry Trippe.
Pan Am almost had the benefits of a monopoly on international routes by the mid 20th century. With the involvement of latest technology jetliners in the airline industry such as the Boeing 707 and also Boeing 747, Pan Am took the leadership of the aircraft industry and led them into the age of the aircrafts powered by jet turbine engines also known as the "Jet Age". On the Contrary to Pan Am's rivals, Pan Am's modern fleet enabled them to fly with far larger numbers of passengers, at a much longer range, and with much fewer stops. Pan Am's primary hub and flagship terminal was the Worldport  in New York City at John F. Kennedy International Airport.
Between the late 1950s and early 1970s, during the remarkable peak of Pan Am, in terms of advanced fleet, experienced and highly trained staff crew, and numerous facilities Pan Am was world-renowned and thanks to all of those amenities Pan Am sat the crown of its own age. With destinations in every continent except Antarctica, Pan American World Airways flew a big number of 11 million passengers to 86 countries and it was only in 1970 alone not to mention how glorious they were. Pan American Airways became the unofficial national flag carrier of the United States even though they were in an Era which is fully under the domination of the flag carriers which were wholly or majority-owned by the governments.
Pan Am was one of the founding members of the International Air Transport Association (IATA (the global airline industry association which was founded on 19 April 1945 in Havana, Cuba), and also the industry standard in hospitality and customer service programs had been shaped that we use nowadays had been shaped by and thanks to Pan Am.
Beginning in the mid-1970s, along with rising competition from the deregulation of the airline industry in 1978, Pan American Airways began facing a series of challenges both internal and external and as a result of all those challenges it was not hard to say that they would face the hardest times of the Pan Am's history.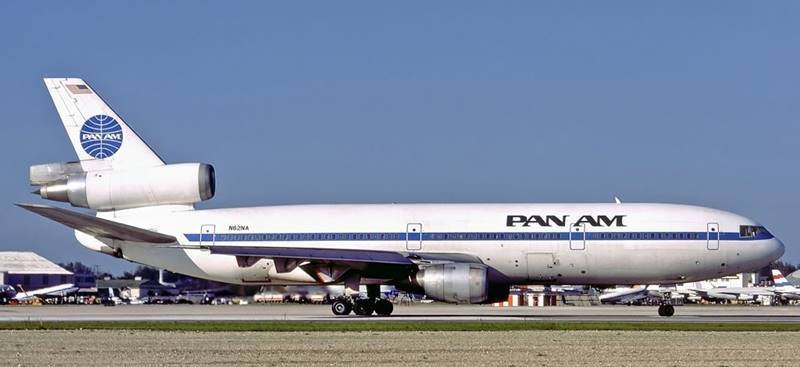 Pan American Airways had a lot of attempts at financial restructuring, they even tried a solution like rebranding to solve those problems throughout the 1980s. Pan American Airways sold off its assets piece by piece just before declaring bankruptcy on 4 December 1991 and every piece which was sold led Pan Am to its own destruction.
The Pan Am Airline's trademark was the second most recognized worldwide in aviation history. By the time it ceased operations, as a result of Pan Am's brand recognition, Pan Am's loss had caused many Americans and travellers to think the golden age of air travel has come to an end with the bankruptcy of Pan Am.
Even in today's world, Pan American Airways' brand, iconography and contributions to the aircraft industry leaves a permanent mark on the aviation world and it is still well known by people. But unfortunately the airline's name and imagery were purchased by railroad holding company Guilford Transportation Industries in 1998, which changed its name to Pan Am Systems and adopted Pan Am's logo.
Pan American World Airways' Chronological Life Story
1927: Pan American Airways, Atlantic, Gulf, and Caribbean Airways, and Aviation Corporation of the Americas founded.
1928: All three precursor firms merge into Aviation Corporation of the Americas, with Pan American Airways as its brand.
1928: 50% interest of Peruvian Airways acquired by Pan American.
1929: Mexicana of Mexico acquired by Pan Am.
1929: Pan American-Grace Airways (PANAGRA), operating on the west coast of South America, formed as a 50–50 joint venture with W. R. Grace and Company.
1930: New York, Rio, and Buenos Aires Line (NYRBA) acquired, allowing Pan Am to operate along the east coast of South America. NYRBA's Brazilian subsidiary is renamed Panair do Brasil.
1931: Majority control of SCADTA of Colombia acquired in secret.
1931: Pacific Alaska Airways formed.
1931: Boston-Maine Airways begins contract operations.
1932: Aerovias Centrales, S.A. formed.
1932: Cubana of Cuba acquired.
1932: Uraba, Medellin and Central Airways acquired.
1933: China National Aviation Corporation (CNAC) acquired.
1933: Servicios Aviacion de Guatemala acquired.
1933: Panama Airways acquired.
1937: CNAC merged with China Airways.
1940: Minority holders of SCADTA bought-out.
1940: Aerovías de Guatemala formed.
1940: 40% of Aeronaves de Mexico acquired.
1941: SCADTA merged into SACO to form Avianca, owned by the Colombian government.
1943: Aerovías Venezolanas, S.A. (AVENSA) of Venezuela founded as a joint venture.
1943: 45% interest of Bahamas Airways acquired.
1944: Cuban investors acquire 56% of Cubana through a stock float.
1945: SAHSA was founded, being owned 40% of Pan Am, 40% of the Honduran Government, and 20% from private carriers.
1946: InterContinental, a chain of hotels, founded.
1946: Brazilian investors bought 4% of Panair do Brasil, with Pan Am's share decreasing to 48%.
1949: Pan Am acquires a stake in Middle East Airlines (MEA), as well as a management contract.
1949: Pan Am's 20% stake in CNAC acquired by Chinese Nationalists, with assets split variously between the Nationalists and the People's Republic of China.
1950: American Overseas Airlines (AOA) acquired from American Airlines.
1954: Pan Am receives a contract to operate Patrick Air Force Base.
1954: Cuban government acquires Pan Am's remaining stake in Cubana.
1955: Pan Am's 49% stake in MEA is sold to British Overseas Airways Corporation (BOAC).
1959: Mexican government acquires Pan Am's stake in Mexicana and Aeronaves de México (later renamed Aeroméxico).
1961: Brazilian investors acquire all of Pan Am's shares in Panair do Brasil.
1967: PANAGRA sold to Braniff International Airways.
1970: Pan Am's 40% stake in SAHSA acquired by Transportes Aéreos Nacionales (TAN).
1976: AVENSA stake divested to Venezuelan government.
1980: National Airlines acquired.
1981: Pan Am Building sold to MetLife.
1981: InterContinental sold to Grand Metropolitan.
1986: Pacific Division sold to United Airlines.
1988: Pan Am's queue for 50 A320 sold to Braniff Inc.
1989: Pan Am World Services (PAWS) sold to Johnson Controls.
1990: London–Heathrow-based routes sold to United Airlines.
1990: Internal German Services Division sold to Lufthansa.
1991: Atlantic Division, Pan Am Shuttle, and New York City Worldport sold to Delta Air Lines.
References;
https://airandspace.si.edu/pan-american-airways-international-commercial-aviation#:~:text=Founded%20in%201927%2C%20Pan%20American,In%201935%2C%20Juan%20T – 01.09.2022
https://en.wikipedia.org/wiki/Pan_Am – 28.08.2022
https://www.panam.org/about-pahf/paa-a-brief-history – 29.08.2022
https://simpleflying.com/30-years-on-why-did-pan-am-declare-bankruptcy/#:~:text=On%20January%208th%2C%201991%2C%20Pan,brands%20in%20US%20aviation%20history – 01.09.2022