The Flying Swiss: The Story of Ernest Failloubaz
Ernest Failloubaz was born in Avenches, Switzerland, on July 27, 1892. He was a pioneer of aviation and the first Swiss citizen to receive a pilot's license.
Failloubaz's interest in aviation began at a young age. He would often watch the airplanes flying overhead and dream of one day becoming a pilot himself. In 1910, he traveled to Paris to buy a Santos-Dumont Demoiselle, a small, two-seater biplane. He brought the plane back to Avenches and began training on it immediately.
On October 11, 1910, Failloubaz made the first flight in Switzerland of an aircraft built and flown by a Swiss citizen. He took off from a field in Avenches and flew for 150 meters. This achievement made him a national hero and earned him the nickname "The Flying Swiss."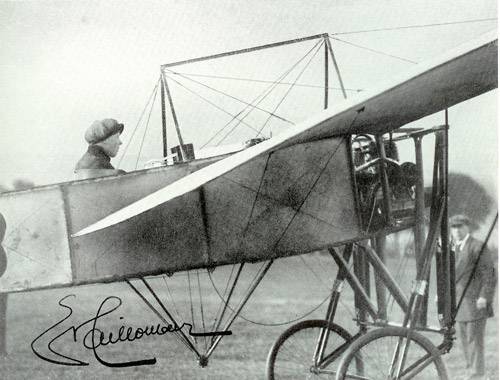 Failloubaz continued to fly and compete in aviation competitions. In 1911, he won the Gordon Bennett Cup race, the most prestigious aviation competition in the world at the time. He also set several world records for distance and altitude.
Failloubaz's career was cut short by World War I. He joined the Swiss Air Force and flew reconnaissance missions over the Italian front. He was shot down and killed on May 14, 1919.
Ernest Failloubaz was a pioneer of aviation and a national hero of Switzerland. His achievements helped to put Switzerland on the map as a leading nation in aviation.
References
– https://en.wikipedia.org/wiki/Ernest_Failloubaz
*http://www.azimut270.ch/en/the-pilots/ernest-failloubaz.html
–https://en.wikipedia.org/wiki/Ernest_Failloubaz
featured image source: By René Grandjean – http://www.aerodrome-gruyere.ch, Public Domain, https://commons.wikimedia.org/w/index.php?curid=9645637
For more aviation pioneers: https://www.aviationfile.com/aviation-pioneers-their-life-stories-and-more/