Airplanes with Football Club Livery
Airplanes with football club livery have become increasingly popular in recent years, as they provide a unique way for football clubs to showcase their brand and expand their global presence. Several airlines have partnered with major football clubs to paint their aircraft in the club's colors and logos, creating a flying billboard for the team.
One notable example is Qatar Airways, which has painted several of its planes in the livery of its partner football club, FC Barcelona. The airline's A350-900 and A380 aircraft feature a striking blue and red design with the Barcelona logo on the tail and fuselage. This partnership has helped to raise the profile of both the airline and the football club, as they work together to reach new audiences around the world.
Another example is Emirates, which has a long-standing partnership with Arsenal Football Club. The airline has painted several of its planes in the iconic red and white colors of the London-based club, featuring the Arsenal logo and player images on the aircraft. Emirates also sponsors the team's stadium and shirts, as well as various other events and initiatives.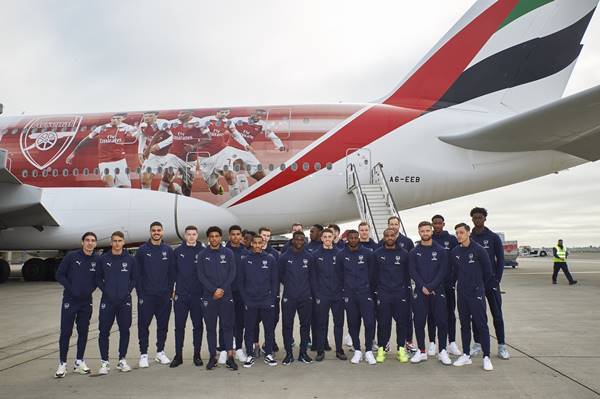 Other football clubs that have partnered with airlines to create livery on planes include Manchester United with Etihad Airways, Real Madrid with Emirates, and Bayern Munich with Lufthansa. These partnerships have helped to build brand awareness for the football clubs, while also providing a unique marketing opportunity for the airlines.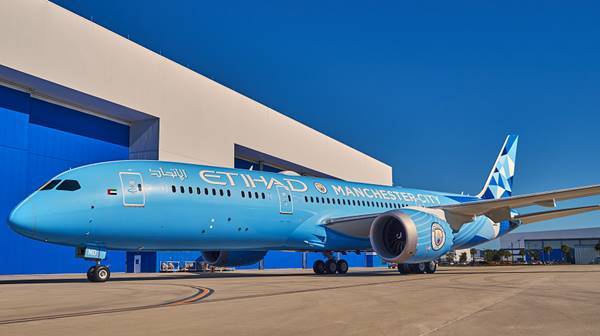 In addition to the branding benefits, airplanes with football club livery also provide a fun and exciting experience for fans. Passengers traveling on these planes can enjoy a unique atmosphere, with the team's colors and logos displayed throughout the cabin. Some airlines even offer special in-flight experiences for football fans, such as match highlights and player interviews.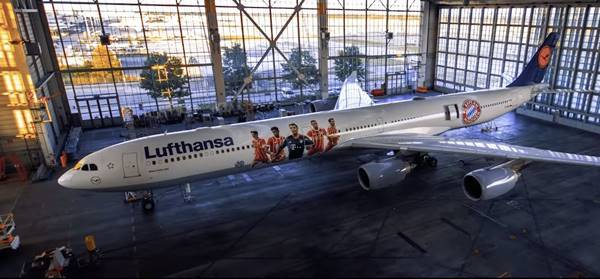 Overall, airplanes with football club livery have become a popular marketing tool for both airlines and football clubs, as they work together to reach new audiences and build their brand presence. These partnerships are a win-win for both parties, as they create a unique and memorable experience for fans while also generating valuable exposure for the club and the airline.
While you read this article, let's not forget that the agreements between Airlines and Football clubs may change, end, and there may be new agreements.
References:
"Qatar Airways and FC Barcelona Unveil Brand New Global Partnership" – Qatar Airways press release, 3 August 2013
"Emirates and Arsenal Football Club extend partnership" – Emirates press release, 23 November 2012
"Etihad Airways partners with Manchester City Football Club" – Etihad Airways press release, 8 July 2009
"Lufthansa and FC Bayern Munich sign new partnership agreement" – Lufthansa press release, 26 August 2021
Image sources:
https://fly-news.es/aviacion-comercial/aerolineas/qatar-airways-fc-barcelona/
https://simpleflying.com/emirates-airbus-a380-arsenal-livery-fate/
https://www.flightglobal.com/fleets/etihad-unveils-manchester-city-787-9/134932.article
https://www.havayolu101.com/2017/07/20/lufthansas-special-a340-design-fc-bayern-munchen/
https://www.emirates.com/media-centre/arsenal-enroute-to-dubai-on-emirates-special-livery-for-friendly-match-with-al-nasr-sports-club/