Harriet Quimby – First Licensed Female Pilot From The U.S.
It is always inspiring to see someone following their dreams and passions in a determined way. These authentic people live their lives on their own terms no matter what the world demands from them, crushing old taboos and building a better world for all of us. Aviation is surely a passion that requires courage and determination, it was even more true in its earlier days. Harriet Quimby was one of the pioneers in aviation that had the necessary self belief to follow her vision and create a lasting impact on the industry's future.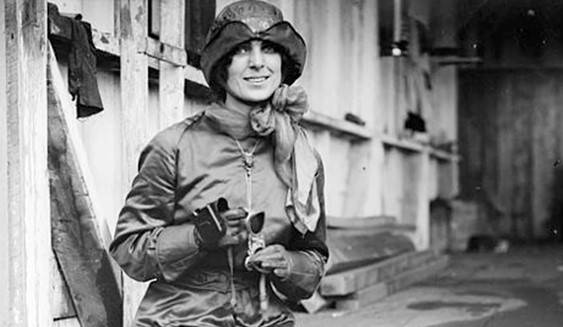 Quimby is known as the first woman in US to get a pilot's license and the first woman to fly across the English Channel. However, her contributions to aviation didn't just end there. At first, she started off as a journalist and wrote about aviation. Her articles were about airshows, the promising potential of commercial aviation and she even encouraged women to take up flying as a sport. Then she became a skilled aviator herself, becoming a inspirational role model for women all over the world.
Inspiring Life Of Harriet Quimby
Harriet Quimby was born on the 11th of May 1875 in Michigan, US. In 1902, Quimby became a journalist, writing for several magazines in San Francisco. The next year she started living in New York to pursue a career as a theater critic. While working as a journalist, Quimby began writing about airshows, it was as if her passion found her instead of the other way around. Witnessing the beauty of aviation firsthand in these shows, she got very interested in flying.
Quimby's interest in aviation got even more powerful when she watched the Belmont Park International Aviation Tournament in New York and met John Moisant, who was one of the pioneers in aviation referred as the "King of Aviators". On the 1st of August 1911 Quimby got her pilot's licence and became the first woman in the US to do so.
After getting her licence, she took part in numerous exhibitions and races all across the United States. Since she was one of the very few female pilots at the time, Quimby quickly attracted lots of attention. But she wanted more than mere attention, she wanted a real achievement and decided to cross the English Channel in an aircraft.
On the 16th of April 1912, Harriet Quimby became the first female pilot to fly across the English Channel. She took of from Dover, England and landed on a beach in northern France. The flight took almost an hour.
Quimby was performing at an aviation meet in Boston, Massachusetts on the 1st of July 1912. During this performance, she lost control of her aircraft and flew out of it, falling to her death. She was just 37 when she died.
There is now a memorial in her homerown built to commemorate her and she is one of the people inducted into the National Aviation Hall of Fame as well as the Long Island Air and Space Hall of Fame.
Resources
Anon. (n.d.), Harriet Quimby, Wikipedia, Retrieved 18 May 2021