RAH-66: World's Most Famous Stealth Helicopter
The Boeing-Sikorsky RAH-66 Comanche designed for the United States Army as an American stealth reconnaissance and attack helicopter. Just after the 7 Billion dollar had been spent on the program for the years to develop the RAH-66, the Boeing-Sikorsky RAH-66 Comanche program was cancelled in 2004 before the mass production began.
In the early 1980s, the United States Army, as a result of lack of technological power, started to prepare requirements for the replacement of the United States Army's helicopters which were in the inventory of the army at that time. And these preparations caused the beginning of the Light Helicopter Experimental (LHX) program.
Almost a decade later, requirements were refined, submissions were evoluted and the program rebranded as the Light Helicopter (LH) program. And in April 1991, the United States Army announced the design contest's winner as the Boeing-Sikorsky team's design. Just after that, the design team of Boeing-Sikorsky was awarded with the agreement for building the winning design.
Several advanced technologies were included in the Comanche like stealth technologies and a plenty of never-tried-before design features. Operationally, it was just to utilise high-technology sensors for its reconnaissance role in the Army where it was done on purpose to identify targets for the AH-64 Apache. The Boeing-Sikorsky RAH-66 Comanche not only assigned for the reconnaissance and stealth missions but also it was able to carry missiles and rockets in internal bays and it is also armed with one rotary cannon and stub wings for the light attack duties.
In between the years of 1996 and 2004, two different RAH-66 prototypes were builded and both experienced flight testing. The program stepped in its $3.1 billion development and engineering stage on 1 June 2000. But the Boeing-Sikorsky Comanche program experienced a tough restructuring. The number of the Comanche in sale decreased to only 650.  And then the total price for the all inclusive production of the Boeing-Sikorsky RAH-66 Comanche project increased a high number such as $26,9 billion.
As early as the late 1990s, it had been reported that it had "serious doubts" about the Comanche program by the Government Accountability Office (GAO), investigating that the Comanche could "consume almost two thirds of the whole Aviation budget by Fiscal Year 2008". Multiple government agencies had pretended to decrease the number of Comanches on order, but, for some reason as a consequence of the heavy reductions to the numbers to be purchased, the unit's price increased rapidly.
The cancellation of the Boeing-Sikorsky RAH-66 Comanche program was announced by the United States Army on 23 February 2004. The Army also expressed that the RAH-66 would not be useful in the battlefield without getting plenty of upgrades and changes. And renovating its existing attack, utility and reconnaissance would be a burden directly to the rotary systems funds of the United States.
New plans were announced by the United States Army to speed up the development of Unmanned Aerial Vehicles (UAVs), which could also fulfil the scouting roles, which are intended for the Comanche, with much lesser risks. Both of the cancelled prototypes have been placed on public display, since the program was terminated.
Specifications of the Boeing-Sikorsky RAH-66 Comanche
General characteristics
Crew: 2
Length: 46 ft 10.25 in (14.2812 m)
Width: 6 ft 8.25 in (2.0384 m) maximum fuselage width
Height: 11 ft 0.75 in (3.3719 m)
Empty weight: 9,300 lb (4,218 kg)
Gross weight: 12,349 lb (5,601 kg)
Max takeoff weight: 17,408 lb (7,896 kg) maximum fuel for self-deployment
Fuel capacity: 301.6 US gal (251.1 imp gal; 1,142 l) internal fuel + 2x 450 US gal (370 imp gal; 1,700 l) drop tank + 2x 112 US gal (93 imp gal; 420 l) optional side weapon bay tanks; Total 1,201.6 US gal (1,000.5 imp gal; 4,549 l) / 1,425.6 US gal (1,187.1 imp gal; 5,396 l) with weapon bay tanks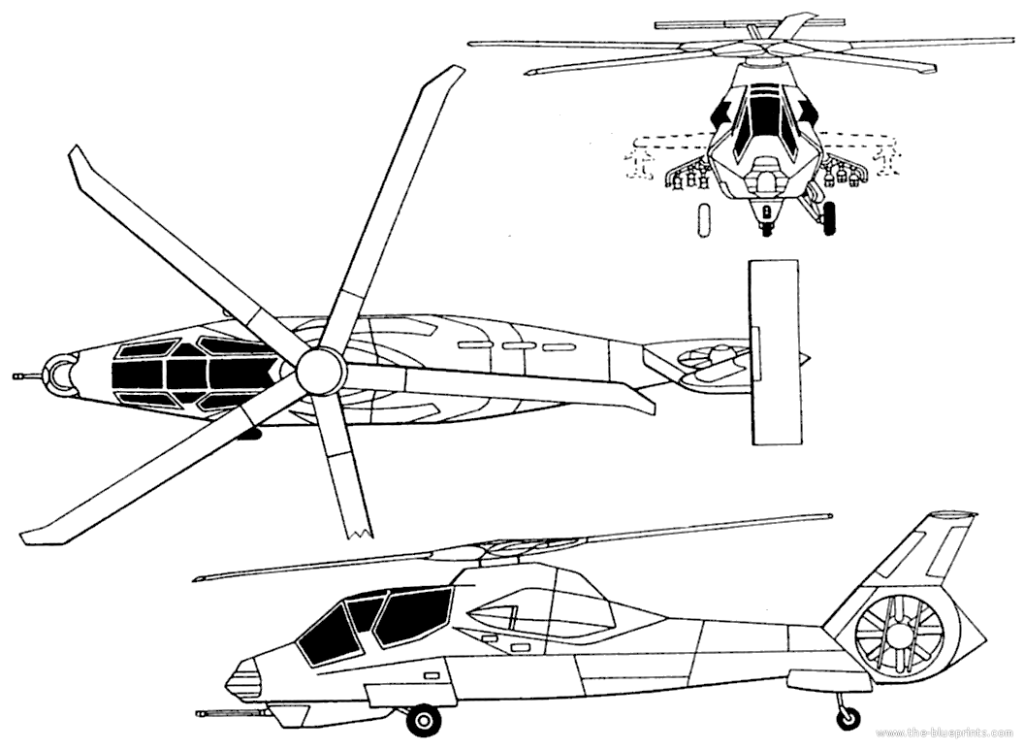 Performance
Maximum speed: 175 kn (201 mph, 324 km/h) without mast radar
166 kn (191 mph; 307 km/h) with mast radar
Cruise speed: 165 kn (190 mph, 306 km/h) without mast radar
149 kn (171 mph; 276 km/h) with mast radar
Range: 262 nmi (302 mi, 485 km)
Combat range: 150 nmi (170 mi, 280 km) internal fuel
Armament
The Boeing-Sikorsky RAH-66 Comanche has a 1× Turreted Gun System with a 20 mm XM301 three-barrel rotary cannon (capacity: 500 rounds). It also has 6× AGM-114 Hellfire air-to-ground missiles, or 12× AIM-92 Stinger air-to-air missiles, or 24× 2.75 in (70 mm) Hydra 70 air-to-ground rockets to use in internal bays and 8× Hellfires, 16× Stingers, or 56× Hydra 70 rockets on its Optional stub wings.
Sources
https://en.wikipedia.org/wiki/Boeing–Sikorsky_RAH-66_Comanche#:~:text=The%20Boeing–Sikorsky%20RAH-66,been%20spent%20on%20the%20program.
https://www.boeing.com/history/products/rah-66-comanche.page