Runway Designators Change When Magnetic Pole Changes
Runway names or runway designators at airports are determined according to the direction of the runways in question.
While determining these, the numbers indicated by the compass value of the direction of the two ends of each runway are taken into consideration.
For example, the names of the two runways at London Heathrow Airport are as follows:
09L / 27R and 09R / 27L
In other words, the compass direction of the first runway is 90 degrees / 270 degrees. The direction of the other runway is also 90 degrees / 270 degrees in the same way.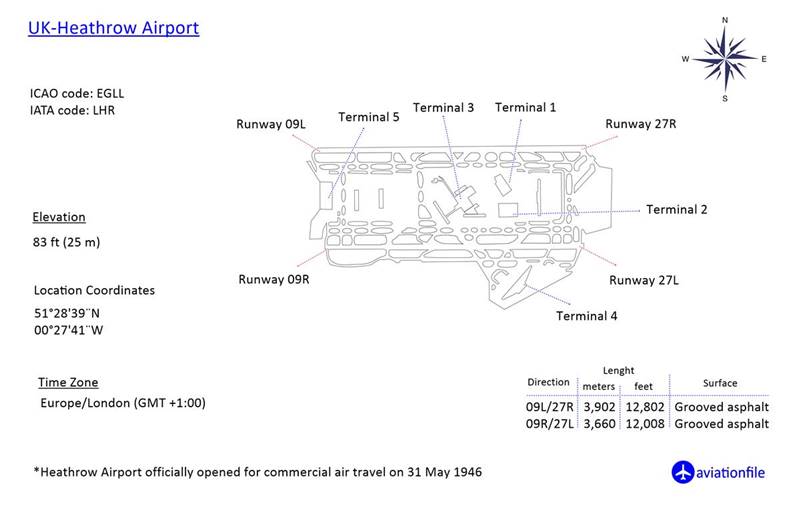 The letters R (Right), L (Left) and C (Center: Middle) are also used to distinguish the parallel tracks. So when 09L runway is viewed from the direction of the runway, it indicates the runway to the left of the other runway.
Since the runways are built in a straight line, the difference between the two ends is always 180 degrees.
Runway Designators Change When Magnetic Pole Changes
Runway designators, which are extremely important especially for the landing and taking off of aircraft, may undergo minor changes in time period.
Because, shifts occur in the magnetic pole of the world at distances of up to 60-70 kilometers per year. It is inevitable to change the runway designators in cases where the change of direction is experienced to a negligible degree.
For example, such a change occurred in 2010 at Istanbul Atatürk Airport (LTBA).
The 06/24 runway of the airport was closed in March 2010 and taken into maintenance.
The runway, which was renewed from the beginning to the end and extended by 300 meters, was put into service on 30 June 2010.
During this work, all runways at Atatürk Airport were recalibrated and the name of the runway in the direction of Ataköy was updated as 05/23 instead of 06/24.
The orientation of the parallel runways of the airport in the north-south direction was also changed from 18/36 to 17/35.