Aviation history is full of many talented people. In this article, we will talk about a person who is passionate about aviation and also talented in management. Cahar Dudayev, Let's take a closer look at his life.
Dudayev was born on February 8, 1944, in the village of Yalho, Chechnya. The President of the Soviet Union, Josef Stalin, subjected all Chechens and Ingushs to forced migration, just like the Crimean Tatars. As a result, Dudayev had to spend the first 13 years of his life in exile in Kazakhstan. His father, Musa Dudayev, was among those exiled to Siberia on February 23, 1944. He was just a 15-day-old baby when he was faced with Exile. His childhood years were spent under very difficult conditions in the Siberian steppes in Kazakhstan, where Chechens were exiled. He completed his secondary education in Siberia.
Military Career of Cahar Dudayev
He graduated from Tambov Military Pilot College in 1962 and Long-Haul Aircraft Pilot and Engineer Training College in 1966. After that Cahar graduated from the Gagarin Air Force Academy in 1974. And he received the title of the first-class pilot and engineer. With his efforts He was awarded a total of 12 medals by the USSR Government and was promoted to the rank of general. He became the first Muslim in Soviet history to become a Commander in the Strategic Air Force.
While he was the Commander of Strategic Air Forces Fleets in Estonia in 1989, he received orders from Moscow to suppress the independence movements that started in the Baltic countries by using military force. However, he did not fulfill this order by saying "I will not throw a bomb on a people fighting for the independence of their homeland". He became a rebel general because he did not suppress the independence movements in the Baltic Republics before he became the President of Chechnya. Moscow could not digest this disobedience and Dudayev was exiled to Grozny with his military unit as punishment. Cahar resigned from his post in May 1990.
Dudayev was invited to the Chechen People's Congress held in November 1990. This congress later became the "Chechen National Congress". Dudayev was elected chairman of the executive board at this congress.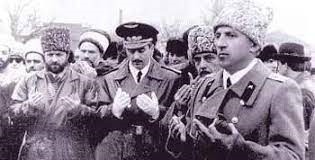 Dudayev-First President of Chechnya
Democratic forces, intellectuals, and the entire Chechen people supported him. In the elections held on October 27, 1991, he was elected the first president of the Republic of Chechnya, with 85% of the votes.
Dudayev, Russia launched an invasion operation against Chechnya on 11 December 1994. Against this move, Dudayev ordered his people to "Jihad", saying, "The Russians cannot dominate our country without the last Chechen die.". With his motivation Chechnya made an effective defense and started counter-attacks. Under the leadership of Dudayev, the Chechen people fought for independence, which lasted for almost two years. Finally, in May 1996, the Russians left Chechnya.
On April 21, 1996, Dudayev was located in the village of Cehi-chu, located in the western part of Chechnya, while making a call by satellite phone. His exact location was determined by the US National Security Agency (NSA) with his coordinates. Than these information was reported to the Russians, and he was killed by a missile attack. Some details of this event are still unproven.