Katherine Cheung, Brilliant Chinese Female Aviator
Here on this blog post we are going to discuss the life of Katherine Cheung, the first Chinese woman who received an international flying license. So, let's learn about the life of this brave and skilled aviator.
Early Life Of Katherine Cheung
Katherine Sui Fun Cheung was born Zhang Ruifen on the 12nd of December 1904 in Enping, a city in the Guangdong Province of China. Completing her primary education in Guangzhou True Light Middle School, Katherine continued her education in Guangzhou City Peidao Women's High School. After passing the necessary examination she graduated in 1921, when she was 17.
Following her graduation Katherine went to the USA in order to study music. During this time period she was practicing driving with her dad at an airport. Because of her proximity to aircraft around this time, her interest in flying began and she wanted to learn how to operate a plane. Even though she left school and got married, Katherine Cheung's passion about aviation always stood there. So, in 1931, when she was 27, she started taking flight lessons with the Chinese Aeronautical Association in Los Angeles under the guidance of her instructor Bert Ekstein.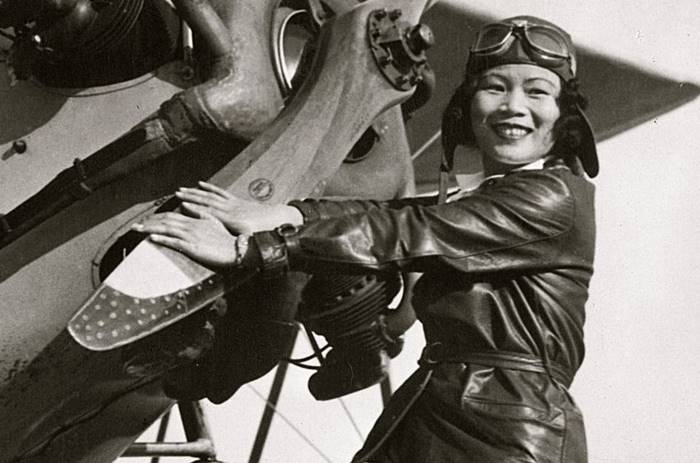 Katherine Cheung's Aviation Career
Cheung received her private pilot's license on the 30th of March 1932 after completing her training. Then, she kept getting training on many different areas of aviation such as aerobatics and navigation, aiming to become a more versatile and skilled pilot. Thanks to these new skills she managed to learn, Katherine Cheung took part in numerous air shows performing difficult maneuvers.
Along with the air shows she participated, Katherine Cheung also took part in many racing events during mid 1930s. Moreover she joined the Ninety Nines club in 1935, which was an international organization for female aviators founded by Amelia Earhart. But this wasn't the only important event in her life that happened this year. Also Cheung received her international flight license in the same year, becoming the first commercial Chinese woman pilot.
Although Katherine Cheung stopped flying after 1942 due to personal reasons, she gave flying instructions in the USA during WWII. Then after the war, Cheung decided to be away from all that action, buying a flower shop and starting to operate it. Katherine Cheung received a medal from the Chinese government on the 4th of March 2001 for her contributions to aviation.

Cheung's Death And Legacy
After a very eventful aviation career full of many successful air shows, races and training others on how to fly, Cheung spend a large portion of her life away in a more tranquil manner. Mainly due to many people she lost and being the sole support for her mother, she gave up flying partially until the end of WWII and completely after the war has ended.
Then in 1990s she moved to Thousand Oaks, California and lived there until her death on the 2nd of September 2003 at the age of 98. Today she is recognized by many organizations such as Beijing Air Force Aviation Museum and Smithsonian's National Air and Space Museum. Besides there are two statues in her honor in Cheung's hometown and she is the subject of the documentary called Aviatrix: The Katherine Sui Fun Cheung Story.
Resources
Anon. (n.d.), Katherine Sui Fun Cheung, Wikipedia, Retrieved 4 February 2022
< https://en.wikipedia.org/wiki/Katherine_Sui_Fun_Cheung >
Women in Aviation International Editor (n.d.), Katherine Cheung, Women in Aviation International, Retrieved 4 February 2022
< https://www.wai.org/pioneers/2000/katherine-cheung >