NOTOC – Notification to Captain
NOTOC is used as an abbreviation for "Special Load Notification To Captain" or "Notification to Captain". It is a form for dangerous goods and all special cargo to be loaded in the cargo compartment of the aircraft.
NOTOC is prepared to inform the captain. Besides standards for the NOTOC form are determined by IATA International Air Transport Association.
The captain in charge must be informed when dangerous goods, live animals, perishable cargo, valuable cargo or funerals are transported on board.
The NOTOC Form
The information to the captain is provided with the NOTOC form. Moreover the captain accesses information of the type, properties and transportation conditions of the cargo via the NOTOC form. NOTOC form is prepared by the cargo officer. It is generally prepared around 1 hour before the departure time of the aircraft and delivered to the operations officer. One copy of the NOTOC form signed by the operations officer will be with the captain during flight. The captain in charge can make additional checks if he/she wishes. Considering this situation, sufficient time should be allocated for the flight not to be delayed.
The NOTOC form is issued once for direct flights but separately for each station, including the last station for transit flights. Additionally, a copy of the document signed by the loading operator, operations officer, and captain; must be in the operations officer.
Importance of Notification to Captain
Furthermore, let's share the importance of NOTOC reporting to the captain with an example. Pets carried in cargo are called "AVIH.". The compartments where the pets will fly may vary depending on the aircraft type. For instance, on B737 aircraft, the vent is placed in compartments 1 or 2 because it is located at the front. Cargo tied carefully with the nets in the compartments is specified in the NOTOC and delivered to the captain by the operations officer. This issue is essential for the captain to adjust and control the temperature of these compartments during the flight. That's why the captain has to know what's in the cargo.
In addition, the Notification to Captain form stating special cargoes such as live animals, dangerous goods, perishable cargo, cargoes requiring temperature values ​​in cargo aircraft is delivered by Loading operator to responsible pilot with the necessary information.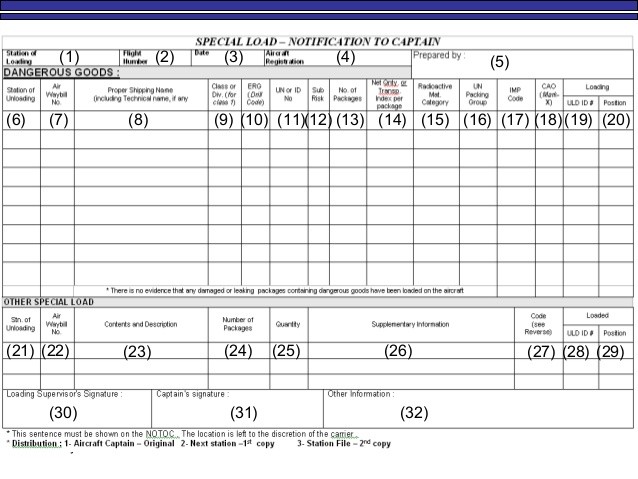 The NOTOC must contain, at a minimum, the following information:
The airport where the goods will be unloaded (destination of the shipment)
Air Waybill number
Proper shipping name AND UN / ID number
Class or division AND subsidiary risk(s) [and compatibility group if Class 1]
Packing group (number of packages, AND net quantity or gross mass per package)
For radioactive material: Transport Index (if applicable)
Three-letter IMP code (Interline Message Procedures Code)
The exact loading position of dangerous goods
Whether the package must be carried on cargo aircraft only (CAO or not)
Remark
Loading Personnel and Captain's Signature
Form more articles click.