Joaquín Loriga Taboada was a Spanish and Galician aviation pioneer and military officer. He was born in Lalín, Pontevedra, Spain, on September 23, 1895. Loriga entered the Artillery Academy in Segovia in 1912 and graduated in 1916. He then received training as a pilot and was commissioned in the Spanish Air Force in 1920.
Loriga's most famous achievement was the first transpacific flight from Madrid to Manila-Philippines, which he completed in 1924 as part of the Escuadrilla Elcano. The flight took 33 days and covered over 11,000 miles. Loriga was the leader of the flight, and he was accompanied by two other pilots, Ramón Franco and Julio Ruiz de Alda, and three mechanics.
Loriga was also a pioneer in the development of the autogiro, a type of aircraft that combines the features of an airplane and a helicopter. He flew the first autogiro in Spain in 1926, and he was a strong advocate for the development of this new technology.
Loriga died in a plane crash in Madrid on July 18, 1927. He was only 31 years old at the time of his death.
Loriga is considered one of the most important figures in the history of Spanish aviation. He was a courageous and innovative pilot who helped to pave the way for the development of modern aviation.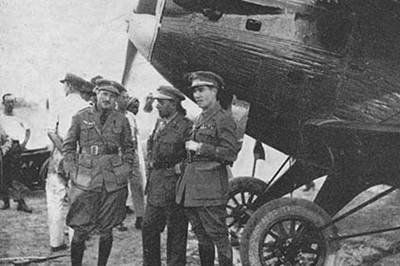 Here are some of his achievements:
First transpacific flight from Madrid to Manila-Philippines (1924)
Pioneer in the development of the autogiro
Led the Spanish Air Force's first squadron of autogiros
Author of the book "El vuelo Madrid-Manila" (1927)
Loriga is a national hero in Spain, and his legacy is celebrated in many ways. There are streets, schools, and monuments named after him, and his story is told in books, films, and documentaries.
References and Sources:
image source: By Unknown author – Unknown, Public Domain, https://commons.wikimedia.org/w/index.php?curid=39313095
https://books.google.com.tr/books?id=LrU9KVW3i-IC&pg=PA259&redir_esc=y#v=onepage&q&f=false
image source: https://www.elmundo.es/elmundo/2011/08/15/galicia/1313432662.html