Metrojet Flight 9268 – 31 October 2015
On October 31, 2015, Metrojet Flight 9268, a Russian-operated Airbus A321-231, crashed in the Sinai Peninsula, killing all 224 people on board. The incident is considered one of the deadliest aviation disasters in Russian history and sparked a widespread investigation into the cause of the accident.
The flight had departed from Sharm El Sheikh International Airport in Egypt at 03:50 UTC, en route to Pulkovo Airport, St. Petersburg, Russia. Just 23 minutes after takeoff, the plane suddenly dropped off radar and disappeared. Debris from the wreckage was soon discovered scattered over a large area, and it became clear that the crash was not survivable.
Initial reports suggested that the crash may have been caused by an act of terrorism, as the Sinai Peninsula has been a hotspot of violence in recent years. However, it was eventually determined that the most likely cause of the accident was a catastrophic failure of the plane's structure.
Explosion in the Fuel Tank
Specifically, investigators found evidence of a large explosive force inside the plane, which was consistent with an explosion in the fuel tank. The damage was so severe that the tail section of the plane was nearly completely separated from the rest of the fuselage.
The cause of the explosion was initially unclear, but investigators eventually determined that it was likely the result of a bomb placed on board the plane by terrorists. The Islamic State of Iraq and the Levant (ISIL) claimed responsibility for the attack, stating that it had smuggled a bomb on board the plane in retaliation for Russia's involvement in the Syrian Civil War.
The incident sparked widespread outrage and condemnation from around the world, as well as a massive effort to improve aviation security measures. Russian President Vladimir Putin ordered a suspension of all flights between Egypt and Russia, and other countries followed suit.
In the aftermath of the crash, there were also many questions raised about the safety and security of commercial aviation in general. Many experts called for better screening and security measures to prevent similar incidents from occurring in the future.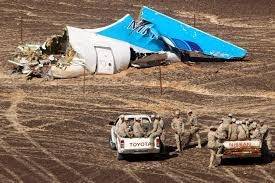 The tragedy of Metrojet Flight 9268 serves as a stark reminder of the dangers of terrorism and the importance of strong security measures in the aviation industry. While it was a horrific event that claimed the lives of many innocent people, it also led to significant changes and improvements in aviation security that have made air travel safer for all
Source:
https://en.wikipedia.org/wiki/Metrojet_Flight_9268
https://www.pbs.org/newshour/tag/metrojet-flight-9268
https://www.newarab.com/tag/metrojet-flight-9268
image source:
https://nypost.com/2015/11/05/russia-egypt-denies-claims-bomb-brought-down-jet/
Featured image source:
By Mehmet Mustafa Celik – https://www.airliners.net/photo/Metrojet-Kolavia/Airbus-A321-231/2665121/L, CC BY-SA 4.0, https://commons.wikimedia.org/w/index.php?curid=116424171