Vladivostok Air Flight 352
Vladivostok Air Flight 352
Flight number: XF352
Aircraft: Tupolev Tu-154M
Tail number: RA-85845
Date: July 4, 2001
Time: 20:47 local time
Origin: Yekaterinburg Koltsovo Airport
Destination: Vladivostok International Airport
Fatalities: 145 (all on board)
Survivors: 0
Vladivostok Air Flight 352, the aircraft was en route from Yekaterinburg to Vladivostok via Irkutsk when it crashed during its approach to Irkutsk Airport. The cause of the crash was determined to be pilot error. The pilots failed to maintain the correct speed during the approach, which resulted in the aircraft stalling and crashing.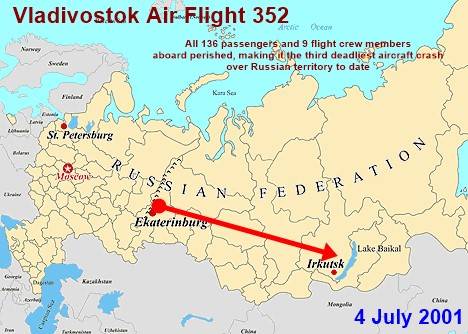 Here are some additional details about the crash:
The aircraft was carrying 136 passengers and 9 crew members.
The crash occurred at an altitude of about 2,500 feet.
The aircraft broke up on impact and there were no survivors.
The crash was the third-deadliest aviation accident in Russia at the time.
References:
https://en.wikipedia.org/wiki/Vladivostok_Air_Flight_352 [2] https://www.ntsb.gov/investigations/AccidentReports/Reports/AAR0201.pdf