Northwest Airlines Flight 255
Northwest Airlines Flight 255 was a McDonnell Douglas DC-9-82 that crashed shortly after takeoff from Detroit Metropolitan Wayne County Airport on August 16, 1987, at about 8:46 p.m. EDT (00:46 UTC August 17). It killed all six crew members and 148 passengers and two people on the ground. The sole survivor was 4-year-old Cecelia Cichan, who sustained serious injuries.
The crash was caused by a combination of factors, including:
The aircraft's left wing flaps were not extended to the proper takeoff setting.
The aircraft's ground spoilers were not deployed after takeoff.
The aircraft was not properly configured for takeoff.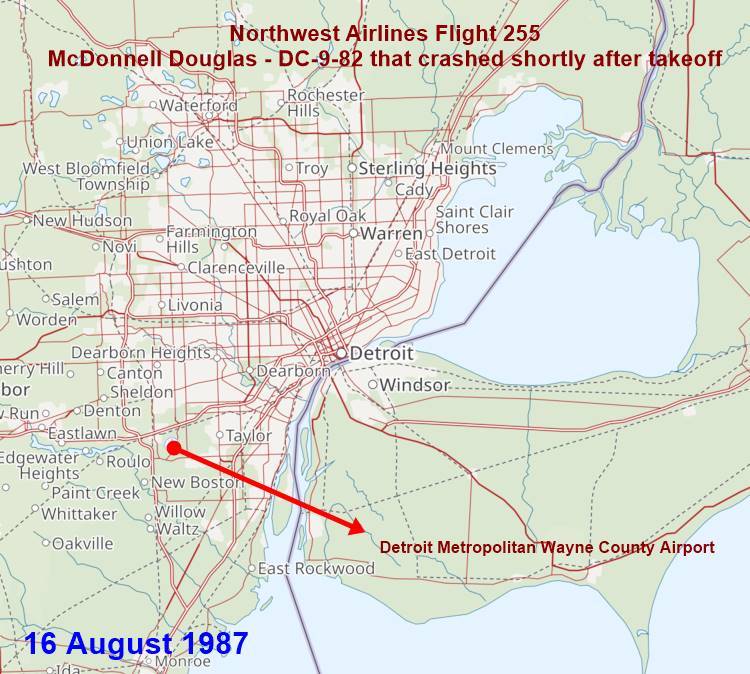 As a result of the crash, the Federal Aviation Administration (FAA) issued several safety recommendations, including:
Requiring pilots to perform a checklist before takeoff to ensure that the aircraft is properly configured.
Requiring pilots to deploy the ground spoilers after takeoff.
Requiring airlines to provide more training to pilots on takeoff procedures.
The crash of Northwest Airlines Flight 255 was the second-deadliest aviation accident in the United States at the time, and it remains the deadliest aviation accident to have a sole survivor.
---
---
References:
Wikipedia: https://en.wikipedia.org/wiki/Northwest_Airlines_Flight_255
35 years later: Flight 255 crashes after takeoff from Detroit Metro Airport: https://www.clickondetroit.com/features/2022/08/16/35-years-later-flight-255-crashes-after-takeoff-from-detroit-metro-airport/
McDonnell Douglas DC-9 | Federal Aviation Administration: https://www.faa.gov/lessons_learned/transport_airplane/accidents/N312RC
Northwest Airlines Flight 255 – Simple English Wikipedia, the free encyclopedia: https://simple.wikipedia.org/wiki/Northwest_Airlines_Flight_255
Image source: By National Transportation Safety Board (NTSB) – http://lessonslearned.faa.gov/ll_main.cfm?TabID=2&LLID=69&LLTypeID=2, Public Domain, https://commons.wikimedia.org/w/index.php?curid=29252474
featured image: https://www.clickondetroit.com/all-about-michigan/2019/08/15/32-years-ago-northwest-flight-255-crashes-after-takeoff-from-detroit-metro-airport/