British Airways Uniforms Through The Years
Since the development of the hot air balloon in the 18th century and the construction of the first powered airplane by Wright brothers in the 1900s travelling by air has held a very big importance in our lives and continues to take a large part in commercial and touristic travel whether it is international or more local in nature.
With its headquarters stationed close to its main airport in London, England, the second largest UK-based airline company British Airways was founded on the 31st of March 1974. The successful company now has a fleet size of over 250 aircraft comprised of a mix of Airbus, Boeing and Embraer planes, serves in over 180 destination all across six continents and keeps generating around $13 billion in revenue each year.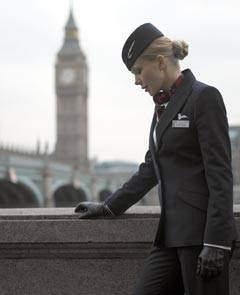 The company's success could be attributed to many factors, including great customer service and the high-levels of comfort provided but in this article we're going to focus on an often overlooked factor in professional success; style and fashion.
When it comes to proper branding and marketing of your company, utilizing the right uniform is of utmost importance. A practical and stylish uniform does not only make sure that there is a certain level of equality in the company but it also helps to establish credibility and build an identity for the organization.
Seeming to have a clear idea of what makes a company successful when it comes to style, since its founding in 1974 British Airways has kept its sense of fashion that's difficult to emulate. So without further ado, let's take a detailed look into the development of British Airways uniforms over many years.

Earliest Examples Of Flight Uniforms
During the dawn of aviation, aircraft were merely experimental vehicles, if not a solely risky tool used by the military. The first ever commercial flight took place on the 1st of January, 1914. The pilot was Tony Jannus and he flew the plane from Tampa to St. Petersburg in this groundbreaking event.
But it wasn't until 1920s that commercial flight started becoming a much more promising endeavour with more aviation companies working on making air travel accessible to the general public and aviation pioneers and visionaries such as Juan Trippe and Harry Bruno promoting the uncertain business of commercial flights.
The earliest flight uniforms were took their inspiration from military uniforms and were designed with a male user in mind. Their colors were mostly khaki and navy blue.
This trend of using a more masculine look kept going until the late 1930s when United Airlines started incorporating a brighter and more colorful look into their attendants' uniforms.
On the 24th of November 1939 British Overseas Airways Corporation, the airline that preceded the British Airways was founded.

British Overseas Airways Corporation Uniforms
The earliest flight attendant uniforms used by the BOAC reflected the style of previous trends in aviation fashion. These uniforms were designed for practicality and the militaristic style that could be seen in earlier flight uniforms was kept.
As time went by and the company started to expand into the international market during the post-World War 2 era, the uniforms began to get more varied in style and reflecting regional clothing such as saris and kimonos.

British European Airways Uniforms
British European Airways was founded on the 1st of January 1946 and started a new era in aviation clothing with its creation. When the war ended and there was no longer the dire need to conserve resources, aviation companies could focus on fashion and style more.
Now the uniforms for female flight attendants were more suited to reflect their femininity and grace, the best example to this being the BEA uniform designed by Sylvia Ayton in 1960.
British Airways Uniforms from 1970s to 1990s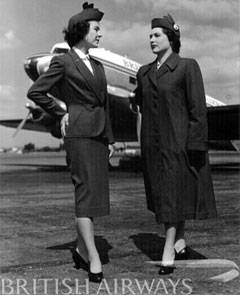 British Airways was founded on the 31st of March 1974 and during the 70s and the 80s British Airways uniforms reflected the style of the era. 1977 uniforms were designed by Baccarat Weatherall. These were elegant uniforms that featured a rounded hat and a colorful scarf.
In 1985 the company took its chances with Roland Klein and it wasn't a mistake at all. The new uniforms were more casual and it helped the company's public image with its welcoming nature.
During 1990s Paul Costelloe designed British Airways uniforms to be cheerful yet elegant, merging the two different styles of his predecessors, laying the groundwork for the modern British Airways uniform.
Contemporary British Airways Uniforms
In 2003 Julien Macdonald designed the British Airways uniforms with poise and elegance in mind. Since the creation of this new pinstripe suit for the flight crew, it has become associated with aviation and professionalism.
With a nicely fitting dark blue jacket over a plain white shirt Macdonald's design looks slick and it demands a certain level of respect. Combined with a simple hat and scart for female crew and a tie for the males, it definitely has an uncomplicated yet sophisticated look.
This new combination was designed to suit the British roots of the airline company. The suit looks very smooth and stylish, part of the reason why the company is very successful and held in very high regard in the public's eye.
Most recently the company has been working with the successful British fashion designer Oswald Boateng and after Julien Macdonald's design, he definitely has a great challange in his way. We will see how he will improve upon such an incredible design that looks like can't be beaten in any way.
Maybe he will come up with something completely new, who knows?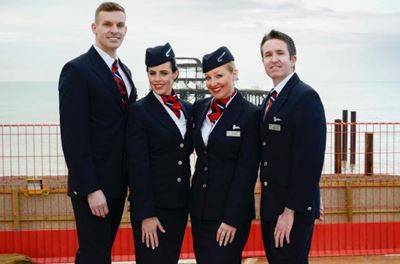 The Bottom Line
When the aviation technology was at its beginnings, commercial flights were nothing but a wild dream. During the 1920s and 1930s great revolutionary minds made it possible for us to be able to simply buy a ticket and travel the whole world in an incredibly short amount of time.
British Airways uniforms began their journey with the company and thanks to the brilliant designer Julien Macdonald they've eventually evolved into the elegant suit that we all know about today.

References
Anon. (n.d.), Aviation, Wikipedia, Retrieved 24 February 2021 < https://en.wikipedia.org/wiki/Aviation >
Ideal Linen Editor (June 10, 2019), 5 REASONS THAT EMPLOYEE UNIFORMS MATTER, Ideal Linen, Retrieved 24 February 2021 < http://ideal-linen.com/blog/employee-uniforms-matter/ >
Anon. (n.d.), British Airways, Wikipedia, Retrieved 24 February 2021 < https://en.wikipedia.org/wiki/British_Airways >
Jennifer Still (June 15, 2018), I fly dozens of times a year, and my favorite airline is British Airways — here's why, Business Insider, Retrieved 24 February 2021 < https://www.businessinsider.com/british-airways-is-the-best-airline-2018-6 >
Madison Park, for CNN (July 20 2016), Fashionable flight attendants and the designers who made the looks, CNN Travel, Retrieved 24 February 2021 < https://edition.cnn.com/travel/article/flight-attendant-uniforms-history/index.html >
Uniforms Page on British Airways Website (n.d.), Retrieved 24 February 2021 < https://www.britishairways.com/en-it/information/about-ba/history-and-heritage/uniforms >
for more articles click.