Chinyere Kalu – The First Female Pilot Of Nigeria
History is full of inspirational women who challenged the status quo and tried to make the world a better place for all of us. From Joan of Arc, who led the French army towards victory, to Nobel Prize winner Marie Curie, who made groundbreaking discoveries in science, many women in history showed us that nothing is impossible to achieve.
Mother Teresa, the famous nurse Florence Nightingale, the heroic queen Boudicca, the talented artist Frida Kahlo, the record-breaking pilot Amelia Earhart, and the list goes on and on… In a world where men want to take all the credit for themselves, women have achieved just as much, if not more. And they did it not only against all odds but against a world that refuses to reward their achievements justly.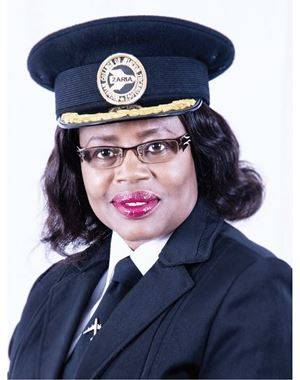 In this article, we are going to talk about one such woman, Chinyere Kalu, the first female pilot of Nigeria. In December 2011, the 51-year-old mother of three became the first woman to fly a commercial plane in Nigeria and changed aviation history forever, despite all her struggles and hardships.
Along with serving as the rector and chief instructor of the Nigerian College of Aviation Technology from October 2011 to February 2014, Captain Chinyere Kalu has countless awards and is a member of many prestigious organizations.
Chinyere Kalu, one of the many great women who changed history, is truly an inspiration. This is exactly why we need to learn more about this inspirational woman, who might have a thing or two to teach us about achieving greatness while battling obstacles and crushing through barriers. So, let's dive in and explore the life of Captain Chinyere Kalu, the first female pilot of Nigeria.
The Fascinating Life of Captain Chinyere Kalu
Born in Abia State in the eastern part of Nigeria in the year 1970, Kalu's parents separated when she was young, and she grew up with her mother and her very supportive extended family. Chinyere Kalu finished her primary education at the Anglican Girls Grammar School, Yaba, Lagos State.
Due to her adventurous spirit, Chinyere Kalu knew what she wanted to do from a very early age. At first she wanted to become an air hostess, but according to her, women in that profession were exploited by men in the industry, and it was against her beliefs as a Christian. So instead of becoming a hostess, she wanted to become a pilot, which was definitely a more audacious goal for a girl at the time.
Her passion for aviation was encouraged by her adventurous aunty, who was known for traveling overseas. When Kalu talked to her aunty about her passion for traveling the world, her aunty told her that it was a big opportunity and she should make the most of it without even looking back. She really respected her aunt, and getting her support was an important driver of her success.
Following her education at Anglican Girls Grammar School, Chinyere Kalu started training as a private and commercial pilot at the Nigerian College of Aviation Technology, Zaria, in 1978. She later took other aviation and transport courses in the United Kingdom and the United States and received her commercial aviation license from the Nigerian College of Aviation Technology.
After getting her license, she attended many training courses all over the world and taught flying to students. But her success did not come as easily as you might think. In 2006, Chinyere Kalu had a plane crash during a learning flight. The cause of the accident was water entering the engine of the plane, and although it was a very scary incident, fortunately she was able to make it back to the field.
Along with such frightening events throughout her career, Captain Chinyere Kalu also had to prove herself in a male dominated field. Because of her gender, she faced lots of discrimination and prejudice. Many men in the industry felt threatened by her success, and despite her qualifications, she spent months without any work or salary, several times during her career.
She didn't have influential people backing her up, but she had the right personality traits and an unyielding spirit to become successful in her field. So, her struggle lasting all those years finally paid off, and on December 28, 2011, Chinyere Kalu flew the plane that made her the first female pilot in Nigeria.
Her success in aviation brought her much recognition and many awards, including the African International Achievers' Merit Award in 2007 and the Rare Gems Professional Achievements Award in 2007. She is now a member of several influential organizations, such as the Nigerian Women Achievers Hall of Fame and the Order of the Federal Republic of Nigeria.
What started as a passion for a little girl from Nigeria to travel the world and do something remarkable ended with her getting the success and recognition she had deserved all along. From the very first moment, Chinyere Kalu knew that the path she chose would be challenging and full of struggles, but she was ready to pay the price, and in turn, she ended up victorious.

Important Lessons We Can Learn From Chinyere Kalu
So, there you have it; short bits from the fascinating life of one of the most influential women in Africa, Captain Chinyere Kalu. As a person who has proven to the whole world that women deserve a much more prominent place in all industries, including aviation, she definitely deserves more recognition.
But the main lesson we can learn from her doesn't end there. She is more than an inspiration for women who want to achieve extraordinary things; she is also the proof that with enough hard work, determination, and faith in oneself, anyone can set out to change the world and reach great heights no matter what others say.
No matter what kind of struggles you have to face and how many challenges you need to overcome, remember one name; Captain Chinyere Kalu, and realize that the strength and resilience to push through obstacles is completely within yourself.
Interview With Chinyere Kalu
During an interview with Punch Nigeria, a Nigerian newspaper, Kalu mentioned some interesting and valuable information about her life, and herself.
When asked about the challenges she faced during her education to be a pilot, she replied:
"There were a lot of challenges. As a trailblazer, I was sometimes doubtful and fearful that I was being too ambitious. At that time, I had never seen a female pilot, whether locally or internationally. At times, I felt I was in the wrong place. Also, I didn't completely find it easy with some of my colleagues and instructors. I was never given any preference. At times, they even made things more difficult for me for having the effrontery to come into a domain that was exclusively for men. It was a bit challenging but my constant prayer and my faith in God strengthened me. I was also encouraged by certain people and by the grace of God, I succeeded."
Also, when the interviewer asked what changes would she like to see in the future in aviation industry, she replied:
"I would like to see faster development in the sector. The industry has a multiplier effect in that it offers a lot of job opportunities. If the fuel price is reasonable, airlines would make more profit, fly more frequently and airfare would possibly reduce, thus encouraging more people to travel by air.
Certain facilities should also be provided at airports to make flying safer. If the aviation industry is developed, it would boost tourism and Nigeria would be able to take its pride of place in the comity of nations.
I feel bad that the country does not have a national carrier. I don't see why countries such as Ethiopia, South Africa and Ghana have carriers and Nigeria does not. It is unfortunate and all these can be traced to bad management. If the right people can be put in the right places, we would be able to float an airline that would be successful."
The interview is rather long, and includes some very interesting information about her. If you would like to read the whole interview, you can do so by visiting Punch Nigeria's website at https://punchng.com/im-happy-not-sacrificing-my-family-for-career-chinyere-kalu/
Resources
Mohammed Awal (April 27, 2020), Captain Chinyere Kalu; Nigeria's first female who flew a plane with water in the engine, Face2Face Africa, Retrieved 10 March 2021 < https://face2faceafrica.com/article/captain-chinyere-kalu-nigerias-first-female-who-flew-a-plane-with-waterin- the-engine >
Anon. (n.d.), Chinyere Kalu, Wikipedia, Retrieved 10 March 2021 < https://en.wikipedia.org/wiki/Chinyere_Kalu >
Dr. Sunday Adelaja (April 4, 2016), Meet Captain Chinyere Kalu, Nigeria's First Female Pilot!, Sunday Adelaja's Blog, Retrieved 10 March 2021
< http://sundayadelajablog.com/9794-2/ >
For more aviators click