Willy Messerschmitt, Designer of Powerful Aircraft
Creative and brilliant designers throughout the history of aviation have all contributed to the development of this industry. One of these important designers is Willy Messerschmitt, who is the subject of this blog post. Even though he has supported the Axis powers during WW2 with his designs, noone can deny that his designs were also important for the growth of the aviation industry. Here with this blog post we will get to learn more about this brilliant aircraft designer and manufacturer. So, let's start and discuss the life and career of this successful German aerospace engineer.
Early Life, Education And WWI Experience of Willy Messerschmitt
Wilhelm "Willy" Emil Messerschmitt was born on the 26th of June, 1898 in Frankfurt am Main, Germany. His father was Baptist Ferdinand Messerschmitt and his mother was Anna Maria. They moved to Bamberg in 1906, when he was 8 years old and he spent most of his chilhood and teenage years there. While his parents were running a wine shop in this new city, Messerschmitt stated becoming interested in building tiny airplanes. Later this interest grew into glider planes.
When Messerschmitt was just 13, he met the glider plane pioneer Friedrich Harth and this event had a huge impact on his life. As the World War I broke out, Harth started serving his country in the war effort and Messerschmitt kept on working on Harth's designs. While the war was still going on Messerschmitt himself was drafted into the military in 1917 but he was later discharged due to health reasons. Then, he started getting his engineering education in Munich Technical College while still working on his passion.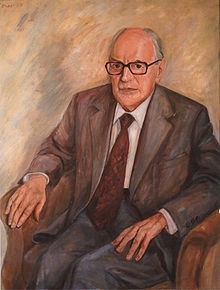 Willy Messerschmitt's Career
Messerschmitt's career had officially started with his graduation from the Munich Technical College in 1923. Although he started out first with sailplanes, he then went on to making small powered aircraft. Even though he went through some issues through the way and his company went bankrupt in 1931, Messerschmitt kept going on.
Through the friendship he had built with Rudolf Hess and Hermann Göring, he kept getting some business agreements and stayed in business during Nazi era and WW2. In 1939, one of the most well-known among Messerschmitt's designs, Messerschmitt Bf 109, won the contest coordinated by the Reich Aviation Ministry. This model quickly became one of the main aircraft models for Luftwaffe, the aerial-warfare branch of the German armed forces. Today, he is best known for this design.
His Trial, Later Life And Death
After the World War II was over, Willy Messerschmitt was tried for his collaboration with the Nazi regime and spent two years in prison. Then, he went back to his position in his company. However, he couldn't manufacture aircraft until 1955 due to the ban on Germany to produce aircraft. Then after the ban was finally lifted, he went back to producing aircraft until his retirement in 1970. Eight years after his retirement, Messerschmitt died in Munich on the 15th of September 1978 when he was 80 years old.
Resources
Anon. (n.d.), Willy Messerschmitt, Wikipedia, Retrieved 22 December 2021
< https://en.wikipedia.org/wiki/Willy_Messerschmitt >
Stephan Wilkinson (March 2014), The Man Behind Messerschmitt's Deadly Airplanes, Aviation History, Retrieved 22 December 2021
< https://www.historynet.com/wizard-warplanes-willy-messerschmitt.htm >
Anon. (n.d.), Willy Messerschmitt, Wikipedia in German, Retrieved 22 December 2021