Daocheng Yading Airport, World's Highest Civilian Airport
Daocheng Yading Airport (IATA code DCY), also known as Kangding Airport, is the world's highest civilian airport, located at an elevation of 4,411 meters (14,472 feet) above sea level in Garzê Tibetan Autonomous Prefecture, Sichuan Province, China. It is located approximately 50 kilometers (31 miles) north of Daocheng County, and serves the Yading Nature Reserve, a UNESCO World Heritage Site.
The airport was opened in September 2013 and has a runway that is 4,200 meters (13,810 feet) long and 45 meters (148 feet) wide. It can handle Boeing 737 and Airbus A319 aircraft. The airport has a single terminal building that can handle up to 1,200 passengers per hour.
Due to its high altitude, Daocheng Yading Airport requires special operating procedures. Aircraft must take off and land at a slower speed than at lower altitudes, and passengers are advised to acclimatize to the altitude before flying.
The airport is a popular destination for tourists visiting the Yading Nature Reserve, which is known for its stunning scenery, including snow-capped mountains, glaciers, and lakes. The airport also serves the local community by providing transportation to and from major cities in China.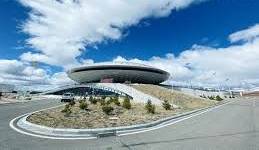 Here are some of the challenges of operating an airport at such a high altitude:
The air is thinner at high altitudes, which reduces the lift generated by aircraft wings. This means that aircraft need to take off and land at a slower speed, and they may need to carry less weight.
The weather at high altitudes can be unpredictable, with strong winds and turbulence common. This can make it difficult for aircraft to land safely.
The high altitude can also cause passengers to experience altitude sickness, which can lead to symptoms such as headache, nausea, and dizziness.
Despite these challenges, Daocheng Yading Airport is a vital transportation link for the Yading Nature Reserve and the local community. The airport has been designed and built to the highest safety standards, and it is equipped with the latest technology to ensure safe operations in all weather conditions.
---
---
References:
https://www.flightradar24.com/data/airports/dcy/reviews
https://en.wikipedia.org/wiki/Daocheng_Yading_Airport
https://www.chinadiscovery.com/sichuan/daocheng-yading/daocheng-yading-airport.html