Emergence of Business Class Flight: Which Airline First Used It?
Business class flights have become the go-to choice for many business travelers looking for more comfort and convenience during their flights. However, the origins of business class flights can be traced back to a single airline that introduced the concept over four decades ago.
In this article, we will take a closer look at the emergence of business class flight, which airline first used them, and how they have evolved over time.
The Emergence of Business Class Flights:
The concept of business class flights emerged in the 1970s when airlines started offering a premium class of service for business travelers. Before this, air travel was largely divided into two classes: first class and economy class. First class was reserved for the wealthiest passengers, while economy class was for everyone else.
However, with the rise of business travel, airlines saw an opportunity to offer a new class of service that catered specifically to the needs of business travelers. Business class flights offered more legroom, better seats, enhanced meal service, and other amenities that were designed to make air travel more comfortable and efficient for business travelers.
The First Airline to Introduce Business Class:
The first airline to introduce business class flights was British Caledonian (then known as BCal) in 1978. The airline launched the new class of service on its London to New York route, offering passengers more spacious seats, better meals, and improved amenities. The move was a huge success, and other airlines soon followed suit, introducing their own versions of business class flights.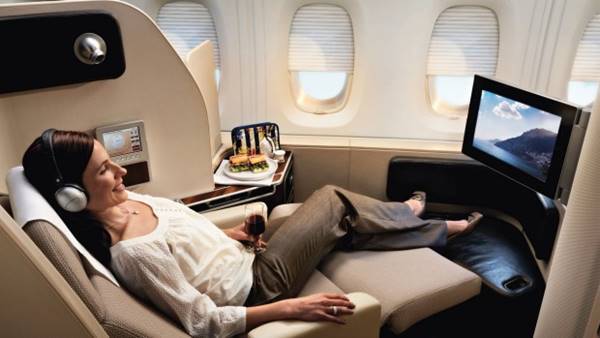 How Business Class Has Evolved:
Since its introduction, business class has evolved significantly. Airlines have continued to add new features and amenities to their business class cabins, including lie-flat seats, personal entertainment systems, and private suites. Many airlines also offer dedicated lounges for business class passengers, as well as priority check-in, boarding, and baggage handling.
In recent years, some airlines have even introduced a new class of service above business class, known as first class or even "suites class." These new classes of service offer even more luxury and exclusivity, with features like private suites, personal butlers, and gourmet dining options.
Conclusion:
In conclusion, business class flights have become an essential part of air travel, offering a more comfortable and efficient experience for business travelers. British Airways was the first airline to introduce business class flights in 1978, and since then, the concept has evolved significantly, with airlines adding new features and amenities to their business class cabins. Whether you're a business traveler or a leisure traveler looking for a more comfortable experience, business class flights are a great option to consider.
References:
"The Evolution of Business Class Air Travel" by James Gagliardi, Forbes, June 7, 2018.
"A Brief History of Business Class" by David Flynn, Executive Traveller, June 28, 2019.
"The Origins of Business Class" by Terri Colby, The New York Times, October 16, 1994.
"How Business Class Changed the Way We Fly" by Timothy O'Neil-Dunne, Skift, August 26, 2013.
"The History of Business Class Airline Seats" by Matt Falcus, Airport Spotting Blog, February 28, 2017.
"British Airways: the History of Business Class" by Edward Robertson, The Telegraph, January 20, 2017.
"The Evolution of Airline Classes: From Economy to First Class" by Vikas Sharma, Luxe Digital, June 18, 2021.
"Business Class: The Rise and Rise of a Premium Airline Seat" by David Flynn, Australian Business Traveller, January 17, 2022.
www.aviationfile.com