FedEx – Elroy Air autonomous cargo flights by 2023
With the development of autonomous vehicles and drone technology over the past years, many operations in aviation are expected to change. Research and Development efforts on this subject are accelerating day by day and many news comes one after another.
World logistics giant FedEx is preparing to transport cargo with autonomous drones. Within the scope of the project, FedEx's fast shipping unit FedEx Express is collaborating with California-based Elroy Air. Elroy Air is working on a cargo system that will operate autonomously from start to finish.
FedEx – Elroy – Autonomous Cargo Drone
In the project, vertical take-off and landing (VTOL) aircraft will be used. The vehicles, called Chaparral, will be capable of carrying a weight of up to 250 kg to a distance of up to 300 miles. There will be 12 electric motors and 12 propellers on the vehicle. The parties have been working on the project since January 2020 and aim to start flight trials in 2023.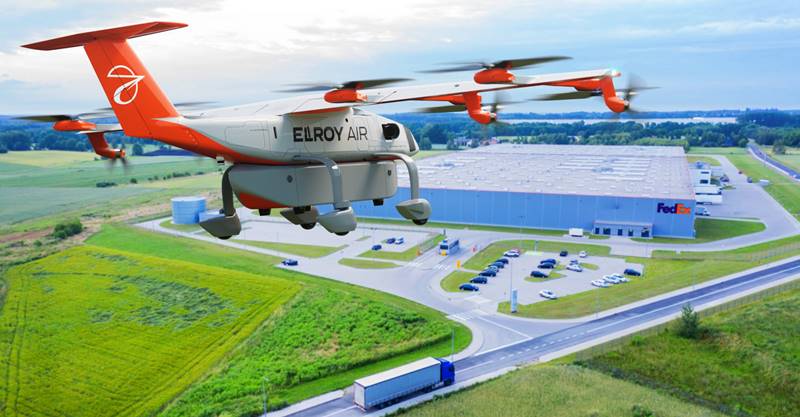 Chaparral to Serve in the mid stage
In the project, FedEx's strategy on the use of drones draws attention. FedEx stays away from the "drone delivery to the door" method, which has been talked about and tried to be done in the industry for years. Chaparral, which has a hybrid-electric engine, will instead serve between FedEx's storage centers. In other words, autonomous cargo drones are focused on middle-mile transport, which is relatively easy to perform. Endpoint deliveries (or pickups) will also be made through FedEx's existing cargo transportation network. With the use of autonomous drones in the mid stage, it is aimed to speed up cargo transportation by roughly five times compared to road transportation.
References:
https://tr.wikipedia.org/wiki/VTOL