Planes with their own Stairs
We know that double-deck jumbo jets such as Airbus 380 and Boeing 747 have stairs for inter-floor transportation. On the other hand, why do some of the relatively smaller aircraft have stairs attached into their fuselage for passenger and crew boarding?
Why do some airlines ask aircraft manufacturers to have stairs installed on their aircraft?
Airports often have boarding bridges connected to the terminal for passengers and staff to get on and off. Stair trolleys are used when there is no boarding bridge or when the aircraft is at open parking positions.
---
---
Which aircraft have their own stairs?
Some models of companies such as Embraer and Bombardier are lower in means of height than other aircraft models. Especially in these types of models, there are stairs mounted on the body of the aircraft to facilitate boarding.
Thanks to these stairs, the service fee paid to the airports is also reduced as there is no need for passenger boarding bridges and stair cars in the operations of the aircraft. Since this type of aircraft does not require any other vehicle for passenger and personnel boarding, it has more flexible operation capability.
On aircraft that normally do not have stairs of their own, such as the Boeing 737, the manufacturer offers the customer the option of integrating stairs. Ireland-based Ryanair low-cost airline uses this method on some of its aircraft to reduce operational costs.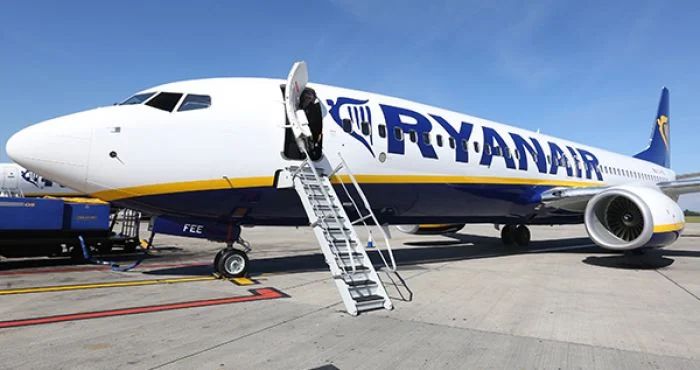 Most of the so-called business jets have their own stairs. Generally, with to the movement and design of the door, the inside of the door is used as stairs.
In addition to all these, VIP-carrying aircraft sometimes have their own stairs. We can say that these stairs are sometimes considered more suitable in terms of security and provide operational flexibility.
Advantages of the Aircraft with Stairs:
– It performs more practical and fast passenger boarding in parking areas far from the terminal.
– It has the opportunity to operate on relatively smaller airports with insufficient infrastructure.
– Operates without being affected by disruptions caused by ground services.
Disadvantages of aircraft with stairs:
– Malfunction of these stair mechanisms can cause operational problems.
– Since these stairs have also a maintenance cost, they create an extra cost item for airline companies.
– When we think that the weight in the aircraft is very important, the weight of a stair mounted on the body increases the total weight and negatively effects fuel consumption, plane balance, etc.

For more articles click.