Sarah Qureshi – The Environmentalist Aerospace Engineer From Pakistan
In today's world, aviation is a seriously big deal! Whether it is taking millions of passangers from one place to another for relaxing vacations, wonderful sightseeings and important business trips or bringing products from far away right to your doorstep, air transport is the most convenient and effective way to move people and cargo as fast as possible through extremely long distances.
Aside from the commercial side of travel which consists of transporting civilians and all kinds of goods all around the world, aviation has a central place in military as well. Not only that but also there are hobbyists who pursue aviation in some form as a passion, such as hot-air ballooning, aerobatics and aerial photography.
But just like anything in life, there is a price to be paid for all the comfort and convenience that the aviation industry provides us and along with the advantages that it brings, the impact of air transport on the environment is undeniable. Because aircraft engines use fossil fuels to work, they emit carbon dioxide and in turn, reduce air quality at the local level and contribute to global climate change.
World Health Organization considers global warming the biggest threat to global health in the 21st century and due to the serious impact of air transport on the climate we need more environment-friendly aircraft engines with less carbon dioxide emissions.
There is no need to worry, though. Just like the countless innovators and scientists in the history of air travel that came up with ingenious ways to overcome intricate problems, there are many visionaries today that are seeking to find solutions to the most recent problems we face in aviation such as this one.
One of these visionaries of modern aviation technology is Pakistani aerospace engineer and the CEO of Aero Engine Craft, Dr. Sarah Qureshi. Her company that she set up with her father who is an important scientist himself, Aero Engine Craft is the first private aviation company in Pakistan that focuses on designing and building aircraft engines that are environment-friendly.
With a passion for aviation, science and the environment, Dr. Sarah Qureshi is now utilizing her years of high quality education and training for the benefit of everyone and she is definitely on the right path to become an important figure in the world of aviation. So, let's take a look at this inspiring woman's life and see what we can learn from her.
Life of Sarah Qureshi
Sarah Qureshi was born in Islamabad, the capital city of Pakistan. She comes from a very well-educated background, with her father being a noteworthy physicist and her mother holding a PhD in quantum chemistry. When Qureshi was very young, she used to work on machines with her father, who worked in the aviation industry, and this sparked her interest in engineering and aircraft.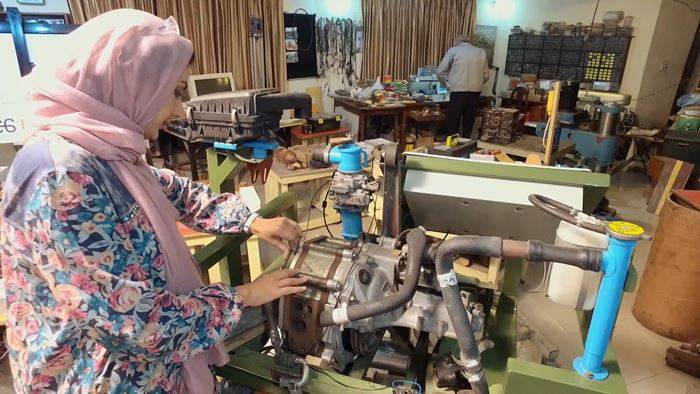 After finishing her primary and secondary education in OPF Girls College in her hometown, Sarah Qureshi got her bachelor's degree from National University of Science and Technology in mechanical engineering and worked as an engineering intern for Rastgar Engineering Company from March 1997 to December 2000.
Following her bachelor's degree Qureshi took flight lessons and earned her private pilot license from Lahore Flight Club. She also practiced acrobatic flying and has 70 hours of experience flying aircraft. An aviation enthusiast at heart she earned her MS in Aerospace Engineering from Cranfield University. She later got a PhD in Aerospace Engineering from the same university.
Although her education mostly focused on aerospace engineering, she spent years working in the automotive industry for companies like Tesla Industries. After supervising MSc. projects at the Department of Aerospace Engineering in Cranfield University from October 2015 to September 2017 while getting her PhD, Dr Sarah Qureshi co-founded Aero Engine Craft with her father Masood Latif Qureshi. She has been working as the CEO
of the company since October 2017.
Dr. Sarah Qureshi further developed an environment-friendly aircraft engine originally designed by her father, which she started working on while getting her PhD under the supervision of Professor Pericles Pilidis. The engine is contrail-free and is said to be a more eco-friendly than regular engines. It has already received two international patents but according to Qureshi, it will need several years before the engine is commercially available.
During her career Qureshi has faced many difficulties. One of these difficulties was having to complete her PhD while taking care of her newborn daughter. Aside from that she was also the only girl in her undergrad engineering class and this made her like an outcast. But according to her, she always got the support that she needed and never felt hindered.
As well as developing the environment-friendly contrail-free aircraft engine, Dr. Sarah Qureshi has also been a visiting academic in Cranfield University since July 2016. Her advice for young entrepreneurs is to value time and make the most of it.
Final Words
Nowadays aviation is a huge industry that comes with many benefits and some drawbacks such as its effect on the global climate change. Since climate change is such an important issue with many serious implications, we need to develop sustainable technologies to make air travel more environment-friendly.
Dr. Sarah Qureshi is a well educated aerospace engineer who has been working in the industry for more than two decades and now she is developing the world's first contrail-free aircraft engine to decrease the negative effect of aviation on the environment.
Along with leading such an innovative project to fight against global climate change and improve aircraft technology, Dr. Sarah Qureshi is an inspirational person that can encourage young girls all across the globe to pursue their dreams and show the whole world the inventive and powerful nature of women.
But most importantly, what we should learn from Dr. Sarah Qureshi is the importance of caring for our environment and the nature. We must all do everything that we can to protect our world and prevent global climate change. Maybe we can't come up with clever inventions like Qureshi, but we can try our best to save our future.
Resources
Rida Khalid (May 27, 2019), Dr. Sarah Qureshi On the Brink of An Aerospace Marvel, NICLahore, Retrieved 18 March 2021
< https://niclahore.lums.edu.pk/dr-sarah-qureshi-on-the-brink-of-an-aerospace-marvel/ >
Sarah Qureshi on LinkedIn < https://pk.linkedin.com/in/sarah-qureshi >
Dr. Sarah Qureshi on Cranfield University Website < https://alumni.cranfield.ac.uk/Public/Page_Local.aspx?Id=744 >
Anon. (n.d.), Sarah Quraishi, Wikipedia, Retrieved 18 March 2021 < https://en.wikipedia.org/wiki/Sarah_Quraishi >