Three Main Airline Alliances
In almost all industries, different companies create alliances in order to grow together and become more successful. Such deals also exist in the aviation industry, especially between companies that provide commercial flights. These associations between aviation companies are called airline alliances.
There are many airline alliances that help the companies that are involved to grow with their allies. However, out of these many alliances, three of them get the lion's share. In this blog post we are going to discuss these three airline alliances and learn more about them. So, without further ado, let's start by learning what exactly an airline alliance is.
What Are Airline Alliances?
Just like in any industry, aviation companies usually look to grow as much as possible and become as successful as possible. While they can go about these goals on their own, there are many aviation companies that ally with others. So, different airline companies get together and make formal agreements. Then, they mostly benefit from a larger network and more opportunities.
These associations are airline alliances and they are designed to help airline companies work together. In the aviation industry, three main airline alliances dominate the market. So, here is these alliances and detailed information about each of them:

1. Star Alliance
As an airline alliance with more than 20 years of history, this one is the largest one among all of them. Right now, Start Alliance has 26 full members and 40 affiliates that don't have voting rights yet. As of now, the alliance operates in 195 countries with more than 1290 airports. Founded on the 14th of May 1997, the fleet of the alliance is made up of over 5000 aircraft.
Latest statistics show that the passenger count of Star Alliance was around 762 million, so we can only expect it to be higher now. With their motto, "The Way the Earth Connects", the alliance helps many successful aviation companies get together. Among these companies there are Air Canada, United Airlines and Lufthansa, Turkish Airlines, Air China, Air New Zealand.
Star Alliance was founded on May 14th, 1997, by five airlines; United Airlines, Lufthansa, Air Canada, SAS (Scandinavian Airlines), and Thai Airways.

2. SkyTeam
Another one of the three main airline alliances is SkyTeam. Launched on the 22nd of June 2000, the alliance now serves in more than 1150 airports with a fleet of over 3000 aircraft. Each year, the alliance is estimated to serve over 630 million passangers from 175 countries.
The founders of the alliance are Aeroméxico, Air France, Delta Air Airlines and Korean Air. As of now the alliance has 19 members. With their slogan, "Caring more about you", the alliance is also connected to SkyTeam Cargo, which serves customers with their freight services.

3. Oneworld
Launched on the 1st of February 1999, Oneworld is now one of the largest airline alliances in the world. The alliance has 14 full members as well as 15 affiliates. Oneworld serves more than 490 million passangers yearly with a fleet of over 3200 aircraft.
The alliance operates in 170 countries with 1012 airports. Their slogan is "Travel Bright" and the founders of the alliance are American Airlines, British Airways, Cathay Pasific, Qantas and Canadian Airlines, which has been acquired by Air Canada.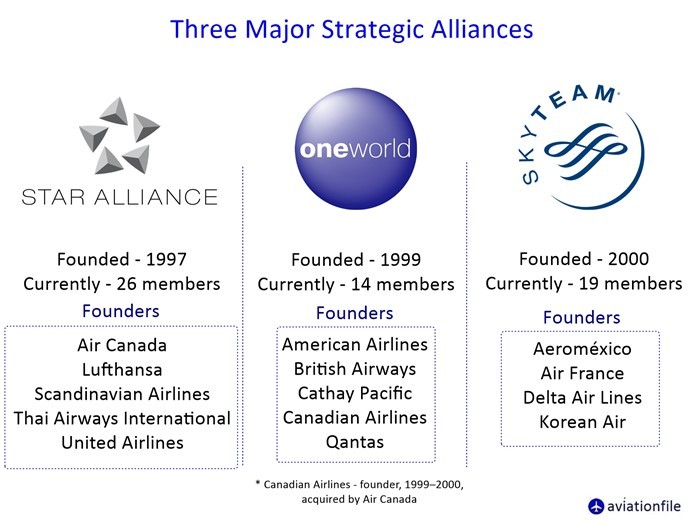 Resources
Anon. (n.d.), Airline alliance, Wikipedia, Retrieved 2 December 2021
< https://en.wikipedia.org/wiki/Airline_alliance >
Alberto Riva (April 2 2021), What are airline alliances, and who's in them?, The Points Guy, Retrieved 2 December 2021
< https://thepointsguy.com/guide/airline-alliances/ >
Anon. (n.d.), Star Alliance, Wikipedia, Retrieved 2 December 2021
< https://en.wikipedia.org/wiki/Star_Alliance >
Anon. (n.d.), Oneworld, Wikipedia, Retrieved 2 December 2021
< https://en.wikipedia.org/wiki/Oneworld >
Anon. (n.d.), SkyTeam, Wikipedia, Retrieved 2 December 2021