Passenger Confidence Survey for Airline Travel – COVID19
After the first identification of Covid19 in Wuhan / China in December 2019 and the declaration of the outbreak a Public Health Emergency of International Concern on 30 January 2020 by WHO it is fair to say that the world switched on the pause button. Every industry and every field had its share and slowed down their operations drastically. Aviation also got its share. Border restrictions, travel restrictions, lockdown, quarantine for travelers and majorly individual health concerns had a huge and negative impact on demand on air travel.
The enormous decline in air travel due to the Coronavirus epidemic has begun to recover to some extent with the resumption of scheduled flights since the beginning of June. Strong passenger demand is needed to return to the pre-crisis period in the aviation industry. However, news from the world show that this has not happened for now. The fact that the outbreak cannot be fully controlled, the travel restrictions between countries and the information shared (both reliable and unreliable information) about Covid-19 disease naturally affect the perception of passengers negatively.
A survey conducted by IATA (International Air Transport Association) for the third time since February reveals that this negative perception among passengers continues to strengthen.
In the survey which conducted in eleven (11) different countries, passengers were asked how soon they will start travelling by plane again after the epidemic is controlled.
The rate of those who say I will get on the plane without waiting is decreasing continuously since the first survey in February.
The most striking point of survey conducted in June is the change in the ratio of those who will wait a month or two to start flying again. This group which was on the rise in the survey in April fell to 33% with a sharp decline in June.
It is seen that the people who think in this way are shifting to the group saying "I will wait six (6) to twelve (12) months."
Survey Chart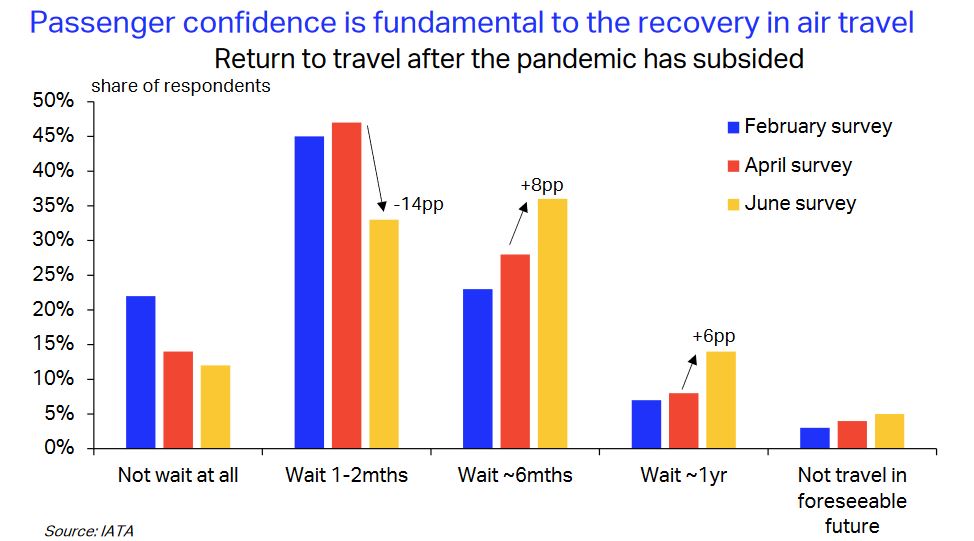 When we look at the overall situation, it does not seem heartwarming at all. Because more than half of the passengers state that they will not board the plane for six months and longer after the epidemic is taken under control.
It is sad to conclude that this situation shows the expected recovery in the sector will be delayed a little more. We hope to reach to good old days very soon.
Farewell…