On March 31, 1986, Mexicana flight 940 was a regularly scheduled international trip with two layovers at Puerto Vallarta and Mazatlán. Everyone on board died when the Boeing 727-200, with the registration XA-MEM, crashed into El Carbón, a mountain in the Sierra Madre Occidental mountain range northwest of Mexico City. The catastrophe, the biggest aviation disaster to ever take place on Mexican soil and the deadliest involving a Boeing 727, claimed 167 lives.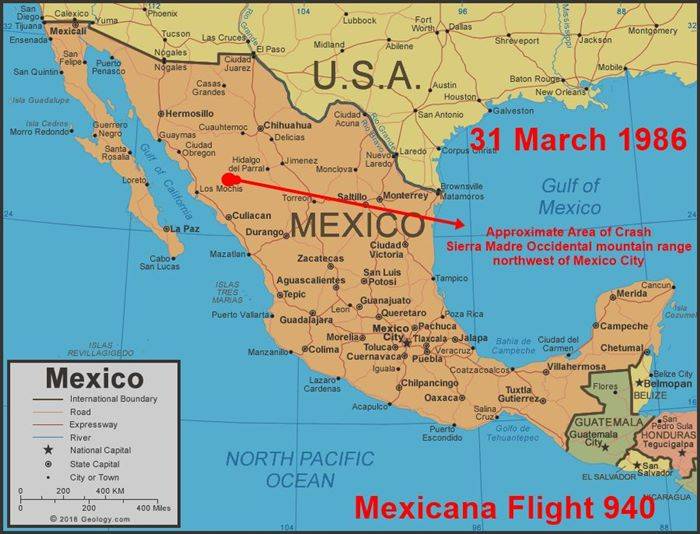 Cause of the crash
15 minutes after takeoff, at 09:05, an explosion shook the fuselage. The crew in the cockpit, including Captain Guadarrama, reported an emergency and requested a return to Benito Juárez International Airport for an emergency landing after seeing that the plane was shaking excessively. Airport personnel were ready for the landing. However, the plane split in half and caught fire when it crashed into the El Carbón mountain close to the Michoacan town of Maravato. Upon impact, all 167 passengers and personnel perished. Two movie scouts for the horror movie Predator were among the deceased. Details of the collision were provided to authorities by witnesses. The Mexican army and the local police were called to the collision site.
Investigation
Initially, this disaster and the bombing of TWA Flight 840, which happened just two days later, were linked to two Middle Eastern terrorist organizations. These organizations allegedly stated in an anonymous letter that they had damaged the jet on a suicide mission as vengeance against the United States. However, sabotage was later ruled out as the reason for the accident. The LH main landing gear tire was loaded with compressed air rather than nitrogen, according to examinations conducted by the Mexican aviation authorities and the U.S. National Transportation Safety Board. The tire also showed signs of overheating. Later, the investigators discovered that a broken brake on the landing gear was to blame for the overheating.
---
---
Aftermath
Mexicana's maintenance staff was accused of being careless when maintaining the 727 and of filling the tire with pressurized air rather than nitrogen. In the months following the accident, the U.S. FAA issued an Airworthiness Directive requiring the use of dry nitrogen (or other gases that have been proven to be inert) when filling the tires on the braked wheels of most commercial aircraft. The accident is still the deadliest airline tragedy in Mexican history and the worst air disaster involving a Boeing 727 in history. It is thought that the explosion of the tire caused fuel lines to burst, which is what started the fire in the aircraft.
Date: March 31, 1986
Time: 10:09 p.m. CST
Location: El Carbón, Sierra Madre Occidental mountain range, Mexico
Aircraft: Boeing 727-200, registered as XA-MEM
Fatalities: 167 (all on board)
Cause: Maintenance error
References:
https://en.wikipedia.org/wiki/Mexicana_de_Aviaci%C3%B3n_Flight_940
https://dbpedia.org/page/Mexicana_de_Aviaci%C3%B3n_Flight_940
https://www.astro.com/astro-databank/Plane_Crash:_Mexicana_Flight_940_(1986)