Tupolev Tu-155: The Plane Flying on Gas
There are many examples of attempts on using alternative fuel sources on vehicles other than petrol. And although there have been some successful ones, such as electric cars, not many attempts have been successful. In fact, it can even be said that most ideas couldn't even be tested on real vehicles. And when it comes to aviation, achieving such a success is even more difficult. Although there have been a few successful prototypes of electric military and civil helicopters and heavy drones, things aren't as good on the other side, planes.
However, there is one successful attempt on using some other sources than petrol on planes; the Tupolev Tu-155. Tupolev Tu-155 is a modified version of Tupolev Tu-154, which is a commercial aircraft. This plane is one of the very few successful attempts on using alternative resources on planes; LNG (liquified natural gas) in this case. And in this article, we will tell you the story of the Tupolev Tu-155: The Plane Flying on Gas.
The Idea Behind Tu-155 and Early Development
The dependency on petrol in the transportation industry is a much concerning problem, as accepted by all authorities in the world. For this reason, many private and government-owned organizations work on developing transportation vehicles that rely on alternative resources rather than petrol, preferably renewable resources. However, while it can be said that this idea has a mild effect on developing Tu-155, it wasn't the main reason.
Tupolev Tu-155 is a prototype that was developed during the cold war, by the Soviet Union. At the time, while the Soviet Union had a large amount of petrol reserves, still, the most available fuel resource was natural gas. And since all the vehicles in the union relied on petrol, a problem in petrol supply could create many problems, especially in logistics. For this reason, there were ideas about developing vehicles that would rely on the union's natural gas reserve, rather than petrol.
The engineer behind the idea of developing a commercial airliner relying on natural gas was Andrei Tupolev, the founder and director of the Tupolev Design Bureau. He had the idea of modifying an existing commercial airliner rather than creating a completely new design to make a plane relying on natural gas. He was thinking of modifying one of the Tupolev Tu-154s, which also was a commercial airplane designed by himself. He started the project without the Kremlin's help, and developed his design to enable it to fly on gas.
He continued developing the prototype for a long while, but unfortunately died before being able to see the prototype's first successful flight. He died in 1972, and the project was almost forgotten after his death.
However, somehow, the project gained attention again by the Tupolev engineers, and started again to be developed.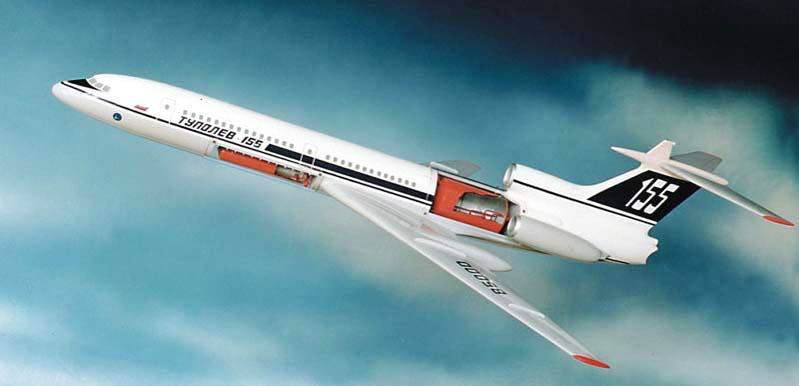 Late Development and An Unfortunate End
16 years after Andrei Tupolev's death, the Tupolev Tu-155 successfully completed its first flight, but it was too late. The Soviet Union had started to break apart, preparing for its inevitable end. At this point, many projects were already canceled due to budget limitations, and the fate of the Tupolev Tu-155 wasn't any better than the others. The cold war had ended, and the Union had lost the competition of the century. Shortly after, the project got canceled, along with Tupolev Tu-156 (another commercial airliner reliant on natural gas, it was very similar to Tupolev Tu-155, except that it relied on cryogenics instead of hydrogen).
Tupolev Tu-155 unfortunately became a victim of the separation of the Soviet Union, but there have been other attempts on achieving the success of Tupolev Tu-155. Today, Airbus, a European commercial airliner manufacturer, is working on developing aircrafts that can fly on hydrogen. The project is only in the design stage yet, but it will probably be a successful attempt, changing the future of the commercial air transportation industry.
Sources:
https://en.wikipedia.org/wiki/Tupolev_Tu-155
https://janes.migavia.com/rus/tupolev/tu-156.html
http://blog.privatejetfinder.com/tu-155-hydrogen/
https://en.wikipedia.org/wiki/Andrei_Tupolev
https://en.wikipedia.org/wiki/Tupolev_Tu-154
https://www.airbus.com/en/innovation/zero-emission/hydrogen/zeroe