United Airlines Bringing Back Supersonic Air Travel
On 03.06.2021 United Airlines pressed that they will spend approximately $3 billion to purchase 15 supersonic, zero-emission jet aircraft from Boom Supersonic.
United Airlines has placed an order for the Overture, a supersonic airliner developed by Boom. United's order consists of a total of 50 aircraft, 15 of which are fixed and 35 are optional. Calculated over the list price of $200 million, the value of the fixed part of the order reaches $3 billion.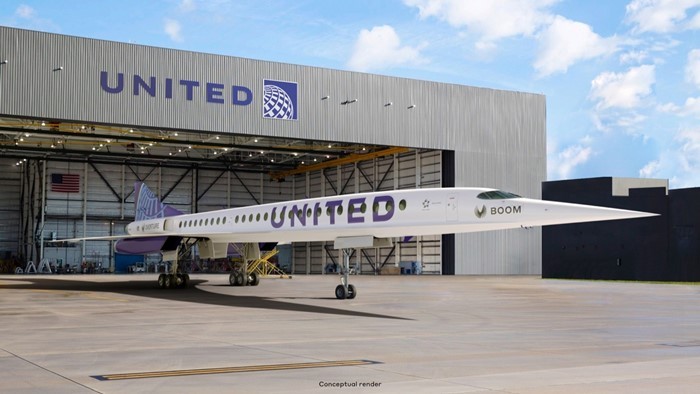 According to the latest information given by Boom on the occasion of this important development, Overture will leave the hangar in 2025, make its first flight in 2026 and officially enter service in 2029.
This supersonic plane can reach 1.7 times the speed of sound. With the help of this speed, the flight time between New York and London will be reduced from six and a half hours to three and a half hours.
As a result, United Airlines became the first US airline to order from this aircraft.
In the early years of the project, Virgin Atlantic (UK) and Japan Airlines (Japan) had declared their intention to purchase the same aircraft.
Project Progressing Slowly
The Overture project has lagged far behind the calendar announced in the first days of its introduction.
The aircraft was intended to make its first test flight in 2020 and enter service in 2023. However, as I mentioned above, current plans are based on 2029.
In addition, another point that draws attention in the press release about yesterday's United order is the change made in the maximum speed of the aircraft can reach. The maximum speed, previously set at Mach 2.2 (2,450 km/h), has been reduced to Mach 1.7 (2,100 km/h).
Overture
Compared to the Concorde, another supersonic passenger plane, which had to say goodbye to the industry about 20 years ago, Overture has very important advantages in terms of aerodynamics, body material and engine technology.
In this way, it is calculated that the unit fuel consumption will be 30% lower compared to the legendary aircraft Concorde.
With a body length of 61 meters, Overture will have a seat capacity of 65-88, depending on the preference of the airline.
The cabin of the aircraft, which has a range of 4,250 nautical miles, will be completely arranged in Business Class style.
Ticket prices will be almost the same as a Business Class ticket on a standard passenger plane.
Lines with high concentrations of business travelers, such as New York – London, San Francisco – Tokyo and Los Angeles – Sydney, will be targeted.