Carolina Elena Lorenzini – An Argentinean Legend
Early Life and Career
Carolina Elena Lorenzini is regarded as one of the most distinguished aviatrices in her times. Notable Argentine aviator born in San Vicente, in a province of Buenos Aires. She was born in 15 August 1899. She was the seventh of eight children in her family. Her father made a living from shoemaking. Since she was a little child, she has dedicated herself to sports. She performed horse riding, rowing, athletics, jumping, javelin and hockey.
She had a quite vivid soul that she dedicated herself to sports and joys of life. In her early youth, Lorenzini was the first woman to drive a car through the streets of Korn. In 1931, after insistent requests for admission, she entered into the Argentinian Aviation Community on 6th of September. She obtained the civil aviator pilot license in 1933. Later, she would become the first woman to obtain the title of flight instructor in South America.
On 31 March 1935, she broke the South American female height record, reaching 5,381 m, in an Ae C-3 closed-cabin aircraft. She got the degree of the first female height record. Then, she achieved this via an Argentinian tourist plane. This provided her innumerable recognitions. Not surprisingly, soon she won a golden medal by the Argentinian Military Aviation. She, as a woman, even became the cover of El Gráfico, the renowned sports newspaper. At that time, women were not popular enough to cover the newspapers at all. Therefore she was recognized as an unstoppable woman!
Among her exceptional flights, the most remembered one is in 1936. She crossed the Río de la Plata (i.e., River Plate) in a solo flight that departed from the Rivadavia Airport, in Morón, On November 13, 1936. She competed with another aviatrix, Isabel Gladisz. The two aviatrixes arrived in Montevideo.  Because of her custom of wearing boots and a leather jacket, she took a nickname as the "gaucho dove". In 1940, she fulfilled a flight throughout 14 Argentine provinces.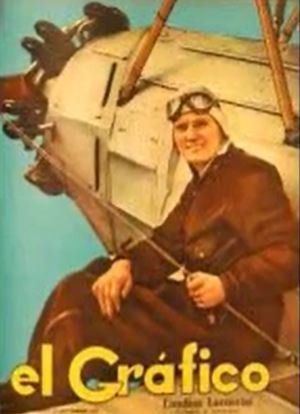 The Tragic and Irrevocable End
On an afternoon of November 23, 1941, she lost her life in an unfortunate plane crash. Carolina was performing aerial acrobatics show. It was known as looping, which involves standing with the feet up and flying very close to the ground. She was going to hold an acrobatics exhibition in honor of a delegation of Uruguayan aviators. During the flight, there were some problems in the descending phase.
When performing an acrobatic maneuver, the machine lost control and crashed. Unfortunately, the plane crashed on the ground the course of the show. The dramatic fall occurred in Morón. It was around 4 p.m. on that Sunday. Grievously, she could not avoid the tragic death. Unfortunately, Argentina lost its one of the most vivacious pilots. However; her memory is still alive among Argentinians. Streets of many cities in Argentina are named after her. After all, she had accomplished what she had stated so many times: not to die charred.
For more aviators click.