Energy Consumption by Travel / Transportation Model
In today's world, we face with alarm signals that nature gives us. We continue to harm our world with our habits, the fossil fuel-based industry and many other factors. Attempts, symbolized by the sixteen-year-old Swedish environmental activist Greta Thunberg on a global scale, led to questioning in many areas. The impact of the transportation sector on the environment also stands out as an issue that needs to be reevaluated.
Virgin Hyperloop One, which runs one of the Hyperloop projects, a new form of transportation that claims to be a rival to the air transport in short-distance travels, revealed the energy consumption of different travel modes with an infographic it prepared.
The calculation is based on a journey between the US city of New York and Toronto, Canada.
In addition to the hyperloop system, electric cars, buses, trains, SUVs and aircraft alternatives were evaluated.
The result was the kilowatt-hour (kWh) of energy needed per seat-kilometer (S-km) for each type of travel.
Accordingly, Hyperloop stands out as an alternative model of transportation with the lowest energy consumption per unit with its 75 kWh / S-km.
Electric cars and buses followed Hyperloop.
With 515 kWh / S-km, airplane travel became the alternative with the most energy needs.
Another striking advantage of Hyperloop is that it can compete with the plane at the speed of travel despite its low unit energy consumption.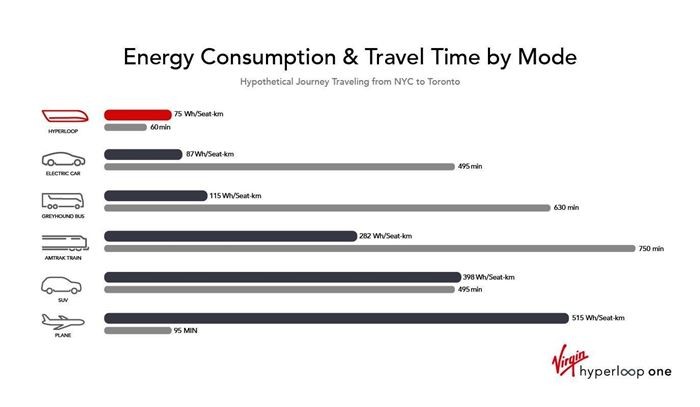 On the other hand, the Hyperloop system has a major obstacle to overcome. This hurdle is infrastructure costs. While there is currently infrastructure for other transportation modes, a very serious investment is required for the construction of vacuum tubes and line works to be used by the hyperloop system.
For more articles click.