Turbulence Data Sharing Spreads – Turbulence Aware Platform
Undoubtedly, turbulences are one of the most disturbing points of air travel. However, in recent years, airline companies' data sharing efforts have become increasingly common in order to reduce their exposure to turbulence and make it predictable. In December 2018, the International Air Transport Association (IATA) introduced a new platform where airlines can share and use turbulence data.
The name of the platform is Turbulence Aware.
Airlines, which are members of the application, transfer the turbulence data from the cockpit to this system in real time and have the opportunity to use the data accumulated here.
IATA works with a software company called Snowflake Software for this application, which sets a good example of "big data" usage in the airline industry.
Thanks to Turbulence Aware, it is possible to make turbulence predictions easier, and it will be easier to avoid turbulences that are already on a certain route.
Pilots can instantly see the turbulence points and its level on the route with this application. Also cockpit team can easily access this application through the tablet PCs easily.
Thus, it became possible to avoid turbulence by making small changes in the route of the plane.
In addition in the application, it is possible to see the severity of possible turbulence. Thus, according to severity of turbulence it is possible to fly without changing the route by just warning the cabin crew and passengers about this situation, instead of changing the route, wasting time and fuel in non-severe turbulence conditions.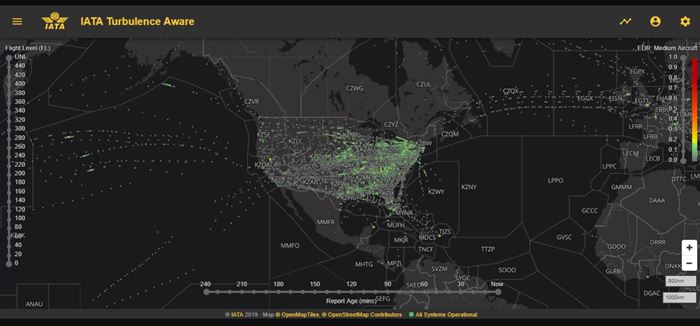 Turbulence Data Sharing Spreads
By sharing turbulence data anonymously, privacy of the airline's commercial operations is ensured.
In the first phase, Delta Air Lines, United Airlines and Aer Lingus were companies that signed an agreement for membership in this program. Today, these include Air France, American Airlines, Cathay Pacific, China Southern Airlines, EasyJet, Japan Airlines, Lufthansa, Qantas, Qatar Airways, Southwest, Swiss and WestJet.
When we consider the regions in which the airline members of the program operate, we can say that a very large part of the world is covered.
As a result, while more comfortable flights will be obtained for passengers thanks to the data sharing between airlines, passenger and cabin crew injuries will be minimized, especially in extreme turbulence conditions. In addition, fuel losses due to speed loss caused by turbulence and carbon emissions related to these incidents will decrease.