What is the slot time? What does it mean in aviation?
First of all, it should be noted that slot times in aviation can be examined under two subtitles. Airport slot time and Air Traffic Management slots. Both slots aim mainly to regulate aircraft traffic in a way that ensures safe and fast flow by taking all factors into account.
So let's see what these two slot times mean.
Let's start with Airport slot times.
 The service that each airport can provide under certain conditions has a capacity. This capacity is determined by considering many factors like the number of runways of that airport and the number of parking spaces in its apron and more. Simply, Airport slot time gives an airline company the right for an aircraft to take off and land at a specific airport at a designated time.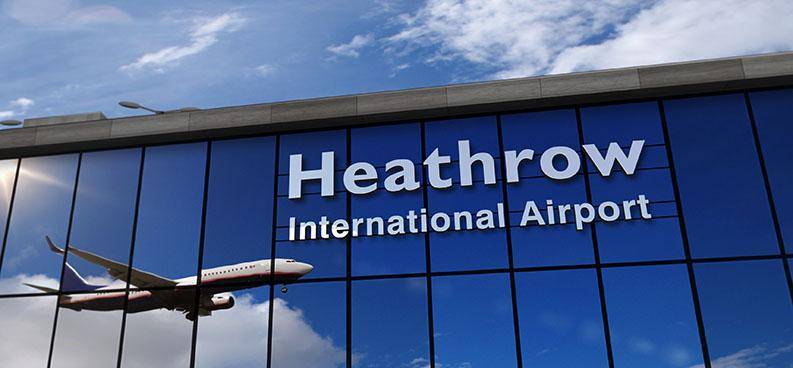 How much are Slots traded for?
Airport slot times can be traded among Airline companies. So much so that at Heathrow airport, companies must pay very high fees for slot times. For example, in February 2015, Turkish Airlines bought a slot time from Scandinavian airlines London Heathrow airport for $ 22 million. In February 2016, Oman Air purchased one slot pair from Air France-KLM for US$ 75,000,000.
Of course, slot time is not applied in every airport. Slot arrangements are made according to the directive prepared by IATA. Airports are divided into three within the framework of slot arrangement:
– Level 1 (Non-Coordinated Airport) – Airport not coordinated
* Level 2 (Schedules Facilitated Airport) – Scheduled airport
– Level 3 (Coordinated Airport) – Coordinated airport
Slot application is carried out at airports in Level 3 category. Which of these three categories of airports are included is determined by the ratio between the traffic capacity of the airport and the realized capacity. While some airports have continuous slot application, Some airports are only seasonally slot controlled. For example, many Italian and Greek airports are slot controlled during the summer period.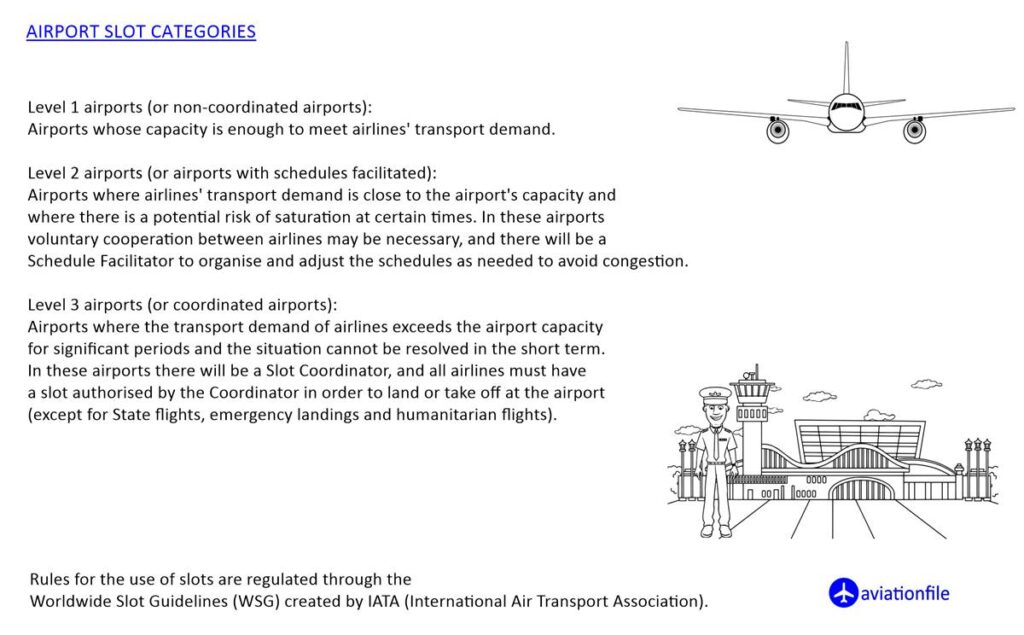 IATA, "Worldwide Slot Guides (WSG)
Airport slot applications are generally issued by local authorities. They use by referencing from the guidline prepared by IATA, "Worldwide Slot Guides (WSG)."
In terms of airport slot time, we can say that the rule of use it or lose it is valid. This means that if an airline does not or cannot use its slot time, it runs the risk of losing it.
Nowadays, when the Covid19 pandemic affects the world, we know that some airlines have ghosted flights to avoid losing their slot rights. This shows us how valuable airport slots are.
Now let's see what Air Traffic Management Slots mean.
Air Traffic Management slots are generally slot time applied to prevent congestion in the air traffic flow.
The airspace is implemented and determined by the rule-setting authority. For European airspace, this authority is EUROCONTROL. Air Traffic Management slots, issued by EUROCONTROL as Network Manager as part of its flow and capacity management role.
Basically, if the capacity of the airspace or a particular airline or air traffic control unit is less than the demand, slots are applied to manage the demand.
Demand is managed by giving the aircraft a slot stating when it can take-off – the 'Calculated Time of Take Off' or CTOT. And the plane with a CTOT time has to take off within five minutes before to 10 minutes after of this time. Planes that fail to take off during this time period have to request a new slot time, and may sometimes have to wait for a long time.
While It is aimed to prevent airplanes from holding in the air with ATM slots. These delays cannot be reduced to zero for many reasons (meteorology, emergency, runway violations…).
For more articles click.
Farewell…