According to statistics (Barnett, 2020, click) air travel is one of the safest way of transportation. On the other hand, all phases of a flight are critical and has its own risks. Incidents cause of meteorological events, runway excursions, runway incursions, air miss situations (loss off separation minimum and etc.) List of incidents goes more and more. Therefore, the first rule of aviation was built as "Safety First".
In this article we are going to cover runway excursion. What is a runway excursion? Some examples of serious runway excursion incidents and what are some runway excursion prevention efforts?
Let we start with the definition;
ICAO defines runway excursion as: A veer off or overrun off the runway surface.
Runway excursions are sad but real in aviation. Come on let's have a look to the types of excursions.
Landing aircraft is unable to stop on the surface of designated runway,
Departing aircraft fails to airborne from the surface of designated runway,
Departing aircraft fails to successfully reject takeoff on the surface of designated runway.
There are various reasons that may cause runway excursions. Meteorological conditions, human factors, technical reasons, etc. For example, surface condition of the runway or low visibility conditions are major factors for excursions.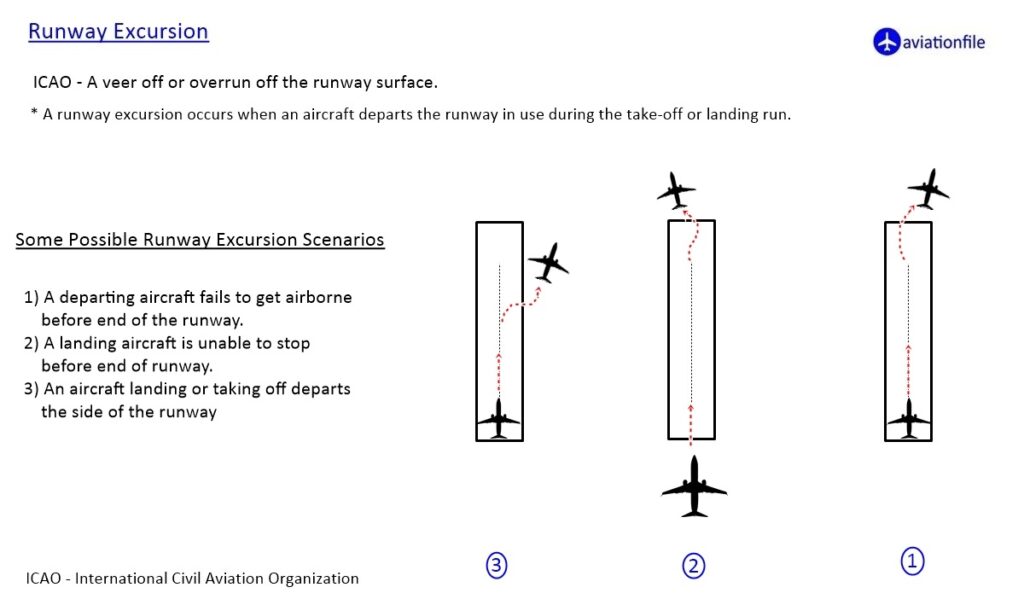 According to the Flight Safety Foundation, as of 2008, runway excursions were the most frequent type of landing accident. 96% of runway accidents and 80% of aviation accidents with fatalities recorded between 1995 and 2007 involved runway excursions.
Let's continue with the possible effects of runway excursions.
Injury or death of people on board,
Damage to the aircraft,
Damage to the aerodrome, equipment and etc.,
Harmfull effect to the people, anything around the incident area,
Heavy work load for professionals,
Possible runway, airport closure,
Delay and/or diversion for other traffics,
Workload on ATM,
Loss of revenue,
Negative company image,
Insurance issues.
It is possible to enlarge the list with more detailed effects. But this list is enough to ensure the importance of safety in aviation.
Come on let's look at some of the remarkable excursion incidents worldwide.
Philippine Airlines Flight 137 – Bacolod City Domestic Airport / Philippines (1998)
(22 March 1998) Airbus A320-214, registration number RP-C3222 overshot the runway while landing at Bacolod City Domestic Airport. There were no fatalities among the aircraft's crew and passengers, but three people died on the ground as the airliner plowed through a residential area. It was reported that human factors caused the incident (Incident report PDF click).
Air France Flight 358 – Toronto Pearson International Airport in Ontario / Canada (2nd of August 2005)
It was a regularly scheduled international flight from Charles de Gaulle Airport in Paris, France, to Toronto Pearson International Airport the Airbus A340 operating the route overran the runway and crashed into nearby Etobicoke Creek, approximately 300 m (980 ft) beyond the end of the runway. All 309 passengers and crew on board the Airbus survived, but twelve people sustained serious injuries. Because no deaths in the accident, press sources described the accident as miracle in Toronto.
Southwest Airlines Flight 1248 – Midway International Airport / Chicago, Illinois, U.S.A (8th of December 2005)
Southwest Airlines Flight 1248 was a scheduled passenger flight from Baltimore, Maryland, to Chicago, Illinois, to Salt Lake City, Utah, and then to Las Vegas, Nevada.
The Boeing 737-700 overran the runway while landing in a snowstorm and crashed into automobile traffic, killing one person (child) on the ground (Accident report PDF click).
S7 Airlines Flight 778 – Irkutsk International Airport / Russia (9th of July 2006)
It was a scheduled domestic passenger flight, flying from Moscow Domodedovo to Irkutsk The Airbus A310 registration F-OGYP, overshot the runway and struck a concrete barrier with high speed. The aircraft to break apart and igniting a massive fire. In the accident 125 of the 203 occupants were killed (Incident report PDF click).
Pegasus Airlines Flight 2193 – Sabiha Gökçen Int. Airport / Turkey (5th  of February 2020)
It was a scheduled domestic passenger flight from Izmir to Istanbul in Turkey operated by Pegasus Airlines. The B737 – 800 with registration TCIZK, three people were killed, 179 people were injured, and the aircraft was destroyed. It was the first fatal accident in the airline's history.
As you see there are various reasons and various accidents which are all unique to circumstances. So what can be done to reduce the amount of runway excursions or maybe reduce the risk of excursions. On that point Flight Safety Foundation published a "Reducing the Risk of Runway Excursions" report.
On the other hand, Airbus company developed and designed a "Runway Overrun Prevention System" (click for System Details – PDF) (ROPS) and tested at Rovaniemi Airport in Finland during the winter of 2016. The system is certified by EASA for A330 family.
Farewell…